11 Tips for a Stress-Free Home Renovation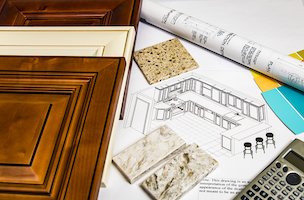 Before you redo that bathroom or kitchen, knock down a wall or add a room, take note. These tips can help you enjoy a smoother, less stressful process. Plus, this prep work will make sure you enjoy the results years from now.
Home Renovation Planning
In the early stages, follow these steps to capture your vision—and ground it in reality.
Know what you like. Look at styles, colors, materials, functionality. Do you want to install new cabinets or move a wall? Visit stores, and browse Pinterest. Watch design shows on TV, and look at home decorating magazines.
Research materials. Don't rely on a contractor. Make sure you know how different countertops, woods and other materials will affect your day-to-day living long after the job is complete. Also, be wary of cheap materials. You don't want to regret your decision to save $400 on cabinets when doors start to sag and veneer peels two years later.
Know your budget. Look at a range of options—appliances, counters, light fixtures—to know if your dream is financially possible. And set aside extra money for unexpected contingencies.
Think about DIY. Be realistic about the things you can do and the skills someone else will have to provide. Can you handle painting when the contractor is done? Or install your own backsplash or replace the toilet? Doing some of the work can save money, but be honest with yourself.
Renovate for the future. Don't base changes or upgrades strictly on your preferences and lifestyle. Consider what those renovations will mean when it's time to sell. Classic styles and ideas stand the test of time. Trends go in and out of style.
Working with Contractors
Follow these steps to assemble your team and to protect your interests.
Vet your contractor. Don't depend on online reviews. Check the licensing authority for complaints, insurance, lien history and current licenses. Call references. Interview contractors about how they operate, what to expect, and how they resolve disagreements.
Consider the timing. Jobs often take longer than expected, due to unforeseen circumstances and other factors. Don't set a schedule with an overly aggressive deadline. Also, it isn't always wise to renovate a new home immediately. Live in the space for a while to get a better idea of the changes you'd like to make.
Get an airtight contract. Materials, deadlines, payment schedule, change orders, potential liabilities for missed milestones and work details are critical. Make sure they're spelled out in writing.
Write down everything. Take notes during or immediately after every conversation with your contractor or anyone doing work in your home. Don't rely on your memory.
Invest in a key lock box. If workers will be in and out of your home while you're not there, don't give them a key to your house. Get a lockbox for the duration of the project. You don't want strangers to copy your house key. And if you use electronic locks, change the passcode after the project.
For more information, check out this article on "Top 5 Construction Project Principles."
Don't Forget the Insurance
Last, but certainly not least, talk to your insurance partner before starting the project. You want to review several items.
The written contract needs to include an indemnity provision that holds the contractor—and not you—responsible for losses that arise from work on the property.
In addition, the contractor's general liability policy should name you as a "primary" and "non-contributory" additional insured.
You'll also want to discuss how the renovations will affect your insurance coverage and your rates.
Read this article for additional risk management tips when hiring contractors.
If you have any questions, or would like a free insurance policy review to make sure you're protected when renovating your home, please call our office at 877-576-5200.