2017 Trends in New York City Commercial Real Estate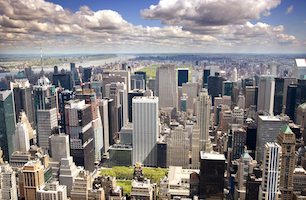 Are you thinking of making changes to your commercial property portfolio? Whether you're planning to buy or sell, understanding these current trends in New York City commercial real estate will let you know what to expect and how to move forward with a proposed deal.
Unlike the residential real estate market, which tends to be seasonal, commercial real estate remains more or less steady, according to Seth Glasser of Marcus & Millichap. Activity might slow down around holiday season, but the market doesn't experience the same winter doldrums as residential properties.
Even so, commercial sales of multi-family properties have recently slowed down in New York City. Plus, prices have gone down. Here's a peek at what's happening—and why—in the Big Apple.
Overpriced properties
After several years of premium pricing, the market has corrected itself—but many sellers haven't adjusted their expectations. Sam Shalumov of Parkway Capital attributes to the shift to a "1031 bubble" that finally popped, referring to the tax code section that allows people to defer capital gains on real estate, provided they identify a new investment property within 45 days. In New York, a number of investors purchased bigger properties, added value and repeated the cycle until the market peaked.
"Before, prices went up dramatically because people were panicking to buy properties at the last minute," says Shalumov. "Now we have a market where everything is stale and hugely overpriced. There are a ton of buyers, but they're waiting waiting for sellers to price their properties reasonably."
At Marcus & Millichap, Glasser has seen the same drop in volume, due to the pricing disparity. "Pricing expectations were very wide in 2016 between sellers and buyers," he says. "Sellers didn't necessarily come down to where buyers were, and the summer was pretty quiet."
Savvy shoppers
Even when offers have been accepted, many sellers often encounter obstacles between acceptance and contract signing. Due diligence often presents the biggest obstacle in a prospective sale. "The biggest difference between 2016 and 2015 is buyer due diligence," says Glasser, "making sure the owner's paperwork is done correctly, especially for deregulated units." New York City has not only made it harder to deregulate rent-stabilized apartments, but a 2015 ruling has also made it harder to prove deregulation.
To avoid surprises, Glasser has a candid conversation with prospective sellers during the initial meeting. "No building is perfect," he says. "There's always something to find. Today, 99% of buyers are going to do their homework, so you might as well figure out what your exposure is.
"It's buyer-specific. Someone might need every receipt to account for every dollar in every unit. Good record-keeping is more important than ever."

Tips for Sellers
If you're thinking of selling your property, keep the following in mind.
Set realistic expectations. Similar to the residential market, many owners of commercial properties have inflated notions of their assets' actual value. Speak with a broker, and review recent sales. "If something is priced right, there's a buyer," says Shalumov.
Make the property attractive. This advice refers not only to investments in curb appeal—landscaping, façade repairs—but also to property violations. According to Glasser, "Buildings with violations are much harder to finance than they were 10-15 months ago."
Keep clean records. Document all investments in the property, and maintain rock-solid financial statements. The effort will pay off during the due diligence process. (Plus, even when you're not planning to sell, keeping track of property improvements can help you qualify for insurance discounts.)