9 Ways to Protect Your Home from Winter Storms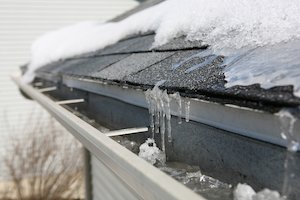 Winter storms, bitter cold, ice and snow can cause serious damage to your home. We recommend these steps now to avoid expensive problems this winter.
Keep your pipes warm. When pipes in a garage, an outside wall, attic, crawl space or a basement freeze, the damage can be extensive and expensive. Even if the rest of your house is warm, your pipes can get cold. Wrap the pipes in the cold parts of your house in insulation. Open kitchen and bathroom cabinets to allow warm air to circulate around the pipes. If you can't keep pipes warm, let water drip from the connected faucet.
Watch for ice dams. Your home's heat can melt ice and snow in the middle of your roof, which refreezes near the edges. The result: roof damage and leaks. The solution is to keep the heat inside your home, not in your attic, by plugging holes and beefing up insulation (which will save you money, too).
Clean gutters and downspouts. If they're clogged, water will back up. Where does it wind up? Inside your home.
Protect your home by trimming trees. Cut back branches near your roof or power lines, and remove or cut back weak trees that are near your home.
Keep two emergency kits. One stays in your home. One goes in your car. Both should have flashlights, batteries, and a first aid kit. In your car, add a scraper, extra hats and gloves, booster cables, and reflectors.
Buy carbon monoxide detectors. Odorless, colorless and deadly, carbon monoxide is a danger when furnaces are running and windows are closed. If you already have them, put in fresh batteries.
Check the heat. At a minimum, change your furnace filter. Even better: Schedule a check-up by a qualified technician.
Check your chimney. If you haven't had your chimney cleaned within the last two years, and you use your fireplace regularly, have a chimney sweep clean and check it before using it. Chimney fires can be deadly.
Consider a generator. If someone in your home relies on powered medical equipment—or if you occasionally work from home—a generator could be a lifesaver if the power goes out.