Backyard Summer Safety Tips: Keep it Fun This Summer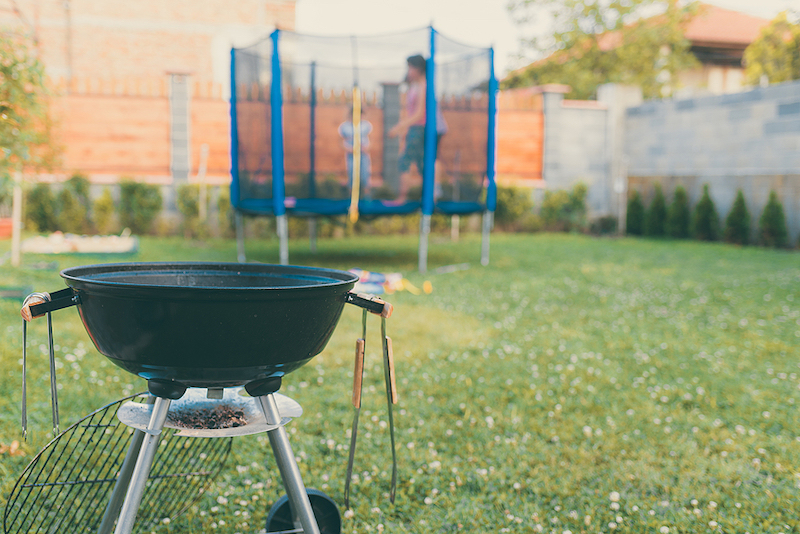 For many families, the usual summer vacation has become a staycation. For others, the backyard beckons when camps and movie theatres are off the table. But vacation or staycation, there's no vacation from being smart and safe. Here are some backyard summer safety tips to keep the summer fun … fun.
Backyard summer safety and grills
Propane
Make sure all connection points between the propane tank hose and the regulator—as well as where the hose connects to the burners—are secure. To check for leaks, use a spray bottle to apply a light soap and water solution to the hose. Turn the propane tank on. If you see bubbles, you have a leak. Do not use the grill with a leak. Call a professional service technician or replace the leaking part. If the propane tank itself is leaking, call the fire department.
Charcoal
Use only charcoal starter fluid. Never use gasoline or any other flammable liquid. Never squirt more fluid on a fire, and keep it out of the reach of children. When you're finished grilling, make sure the coals are completely cooled before disposing.
Summer safety and yards
Holes, bumps and tree roots create tripping hazards. Do a thorough walk-through of your yard periodically, especially if you're in an area where critters dig holes. Fill holes, chop or dig up dead tree roots, and roll or tamp high spots. If you have trouble with critters or other pests, you want to call for professional help.
Backyard swing sets, playsets and playgrounds
Chances are your play equipment is getting a lot of use, with no school and fewer out-of-home activities. Conduct regular inspections to make sure it's solid. Look for loose screws, nuts and bolts, exposed nails, splinters or other potential hazards. Make sure you have soft landing areas under swings and slides. Periodically replenish soft landing materials, such as wood chips, to keep the surface soft.
Safety tips on pests and pesticides
If you live in an area with ticks, check your children and pets when they come in from outdoors.
If you have mosquitoes or other insect pests, follow these safety tips from the Environmental Protection Agency (EPA):
Use non-chemical pest control methods whenever possible. Make sure you don't have any standing water or leaky pipes, and eliminate pest habitats, such as leaf debris or neglected woodpiles.
Don't apply pesticides when children or pets are nearby, and don't allow them near the application area until the pesticides have dried.
If you use pesticide where neighbors' pets might go, put up a warning sign.
Never apply pesticides on windy days, and wear protective clothing, including long sleeves and eye protection.
Wash hands immediately after applying pesticides.
Safety tips for pools and spas
Never allow children to use a pool or spa unsupervised. Tragedies can happen in seconds. Use a sturdy cover that a child can't easily remove whenever a pool or spa isn't in use. If local regulations require a fence around your pool or spa, make sure your fence is secure and meets local codes.
Check your pool's drain and suction covers regularly. If they are missing or broken, repair them immediately. Faulty drains can cause accidental entrapment.
Sheds and outbuildings
If you store equipment or chemicals in a shed or other building, keep it secure. Keep equipment and chemicals out of the reach of children, no matter where they're located.
We hope these backyard summer safety tips help you and your family enjoy a safe and healthy summer.
If you have any questions about home insurance or your current insurance policy, or if you would like a free insurance review, please call us at 877-576-5200.