How landlords can provide better coronavirus safety for tenants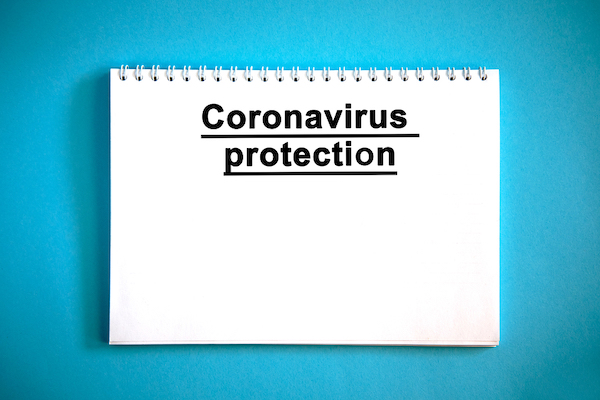 As a landlord, you may be wondering how you can provide better coronavirus safety for tenants, your employees and your building. The coronavirus has added new considerations and challenges to your operations. You probably have questions about your legal obligations.
These handy tips can get you started. Please monitor government regulations and recommendations; this is a rapidly changing situation.
Make a Plan for Safety
Before a tenant becomes affected, or an infected visitor or vendor enters the building, landlords should have a plan on how to deal with the pandemic.
Don't wait until an outbreak. All it takes is for one tenant to show symptoms of what they think is Covid-19 and post that on social media to cause a serious disruption in the building.
Your plan should include:
Communications with tenants and, if necessary, the media
Health and safety protocols for tenants, guests, vendors and delivery personnel
Cleaning and disinfecting regimens
Monitoring of government regulations and guidance
Response if a tenant becomes infected
Construction and Repairs Related to Coronavirus Safety
Under New York's PAUSE order, workers such as electricians or plumbers are considered essential. So are "other related construction firms and professionals for essential infrastructure or for emergency repair and safety purposes."
If you have an emergency issue in the building or in any department, it's legal to send a repair person.
In contrast, State Executive Order 202.6 and Empire State Development Corporation guidance suspends all non-essential construction. The only exemptions are construction work that is:
Necessary to protect the health and safety of occupants
Makes a site safe in advance of suspension
Limited to a single worker
Related to utilities, hospital/healthcare facilities, transitional and affordable housing
More information is available here.
Tenant Education Improves Their Safety
Help keep tenants safe during the coronavirus by educating them about the Centers for Disease Control and Prevention (CDC) guidelines:
Wash hands well and often with soap and water (for at least 20 seconds), especially after touching surfaces that are frequently touched by others.
If soap and water aren't available, use an alcohol-based hand sanitizer that contains 60%–95% alcohol
Cover mouth and nose with a tissue or sleeve when coughing and/or sneezing
Avoid close contact with sick people
Avoid touching face, nose, or mouth with unwashed hands
Stay home if feeling sick
Clean and disinfect frequently touched objects and surfaces
Seek help/care right away if exhibiting any symptoms of the coronavirus
Cleaning and Disinfecting for Coronavirus Safety
As a safety and courtesy measure, landlords should keep soap and hand sanitizers in any common areas, such as gyms, game rooms, laundry rooms, storage areas and the lobby.
Landlords should also clean/wipe down common areas frequently, including hallways, elevators, stairwells, railings and mailboxes. Employees should be encouraged to wear gloves and masks. The CDC recommends cleaning and disinfecting commonly touched surfaces daily.
Although tenants are responsible for cleaning their own units, if landlords can help tenants obtain cleaning supplies that are difficult to obtain, that would be a courtesy.
Read more here for additional cleaning product information including substitutions.
Provide a Safe Work Environment
As a landlord or owner, you have a legal obligation to ensure a safe and healthy work environment, as outlined in sections 13 and 14 of OSHA No. 1 of 2006. Make sure you provide personal protection equipment (PPE) to employees, including gloves and masks, especially for those who come in physical contact with others.
Do not allow sick employees to work or enter the building (unless they live there). Insist on self-quarantining for two weeks for any employees who might be infected or exposed. Keep them informed of all guidance on interacting with tenants and members of the public.
If possible, revise your operations to minimize contact and enhance safety, such as adding online rent payments or a drop box for physical checks.
If a Tenant Gets Coronavirus
Tenants are not required to disclose possible infections. However, if you become aware that one or more tenants are infected or possibly infected, encourage the tenant to self-quarantine in their apartment for the safety of other tenants and their guests. Do not disclose the identity of the infected tenant, but reassure other residents that you're monitoring the situation and will keep them informed of any developments that affect the building. Reiterate the steps you're taking to keep common areas and surfaces clean and disinfected.
Under no circumstances can you bar the tenant from entering the building or their own unit. However, you can and should temporarily suspend any activities in the building that require people to gather.
There is currently no official requirement that owners or landlords notify tenants about coronavirus risks. However, be aware of what peers are doing. If many in your area are taking steps to notify tenants, you should match their actions if possible. You don't want future issues from tenants who claim that you didn't meet an emerging standard of care.
Stay Informed
Chances are, your lease agreements and commercial insurance policies don't mention pandemics or your liability. Still, review your policies with your broker/agent for possible liability protection, coverage of remediation costs, and whether business interruption coverage may apply.
Attorney Alex Lycoyannis answered landlord questions on rent collection that may offer guidance. Consult with legal counsel if you have any other questions about your legal responsibilities and potential liability.
Your tenants and employees are counting on you.
If you have any questions about insurance or your current insurance policy, or if you would like a free insurance review, please call us at 877-576-5200.