City Building Owners Insurance Appears in 'The Atlantic'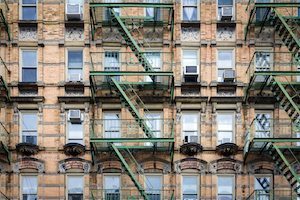 Stu Cohen, founder of City Building Owners Insurance, was recently interviewed for an article in The Atlantic. The story, which was published online on Sunday, February 25, 2018, presents fire escapes as an iconic and nostalgic, but useless, building accessory.
The author references Stu with regard to common challenges regarding these historic structures:
"The most common issues with these existing structures, according to Stu Cohen, the founder of the City Building Owners Insurance Program, are the same ones that have plagued them from their earliest implementation: lack of maintenance and human obstruction."
The article focuses on the problems caused by poorly maintained fire escapes. However, these structures can provide an alternate form of egress in an emergency. In fact, one insurance program has created a special discount policy for buildings with fire escapes and other life-safety features.
Previous articles have addressed fire escape maintenance tips. The two basic types of maintenance include paint and structural repairs. A fresh coat of paint does more than look nice; it prevents deterioration, like rust. More important, however, are structural repairs. Paint should never cover up a problem.
Structural repairs should be made following an annual inspection to make sure that fire escapes will operate properly as needed. For example, inspectors need to check steps, railings, hardware, support beams, and points of attachment. Maintaining the structural integrity of fire escapes—and keeping them free from obstruction—will allow them to perform their job when needed. These basic, preventive steps could also eliminate tragedies like those examples recounted in the article in The Atlantic.
While new fire codes provide a better solution than these external means of egress, fire escapes can still play an important role in life safety for older buildings.

If you have a three-story building with fire escapes or would like a free building insurance quote, call our office at 877-576-5200 to see whether you can turn this life-safety feature into added savings.