Stuck at home? Take some time to create (or update) your home inventory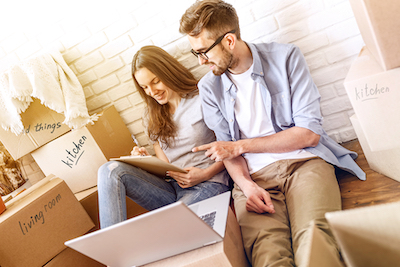 One of the most valuable things you can do to protect yourself in case of a fire, burglary or similar event is to compile a home inventory. Now, when you're probably home more than usual, is a great time to take on that project.
If you haven't done a home inventory, you aren't alone: The Insurance Information Institute (III) estimates that only half of all consumers have one. More sobering is the fact that the III has found that 6% of insured homes are likely to have an insurance claim in any given year. Only a tiny portion, 2-3% of those claims, on average, involve liability. The vast majority are claims of property damage.
Don't Rely on Your Memory
Could you name every item in your home, when and where you purchased it, and what it would cost to replace it? Could you name every item in one room of your home? Have you ever searched for something in a closet, cabinet, basement or attic and discovered things you'd forgotten about? These are some of the reasons why having an up-to-date inventory of everything in your home is so important.
Another reason is that supporting your claim will be difficult without photos, receipts or other documentation. Does your family room have a $500 sofa from a discount store or a high-end designer piece that cost 10 times that amount? If your house burns down, the charred remains of that sofa might not support your claim.
No Home Inventory? Start Small
Making a list of belongings in your home can seem like a daunting task. Start small. Resolve to inventory the contents of one room this weekend. Next weekend, choose a second room. This isn't a project you need to complete in one day.
Don't forget items stored in a garage, a shed, a storage facility or in someone else's home or garage. If you store anything in your vehicle, include that as well. You might be surprised to learn that often items stolen from your vehicle are actually covered by your homeowner's or renter's insurance, not your auto insurance.
See these 5 steps to a home inventory and how to update your inventory and insurance coverage for guidance.
How to Do an Inventory
You have several options for collecting the information you need to support a potential insurance claim:
Compile a written list of every item, including date purchased, price paid and other information. Include photos and serial numbers.
Take a video of every item, narrating the video with purchase information.
Use one of many free and low-cost apps available for iPhones and Android phones. Many insurance providers supply apps as well.
Whichever method you use, include receipts and any other documentation. Store information offsite, preferably in the cloud or in a safe deposit box. This way, if your home is destroyed, your records aren't lost. Scan or take photos of receipts and documentation, and store those in the cloud as well. Record serial numbers.
Please note that you don't have to inventory every last item. A photo of everything in your pantry will be all your insurer will likely need to approve a bulk claim, such as "contents of pantry, $150." Your insurer doesn't need a list of every piece of Tupperware.
One Last Benefit
As you're completing your home inventory, talk to your insurance broker/agent about anything particularly valuable. You may discover that some items—such as antiques, jewelry, furs or coin collections—aren't covered in your policy and require a rider. You don't want to discover after a fire, burglary or natural disaster that something of value wasn't covered. You may even have the happy surprise of learning that a family heirloom is worth much more than you thought.
There's no such thing as too much documentation. The better you can support your claim with an accurate list of belongings, the easier it is for your insurer and you in the event of a loss.
If you have any questions about insurance or your current insurance policy, or if you would like a free insurance review, please call us at 877-576-5200.