Enjoy candles? Follow these candle safety tips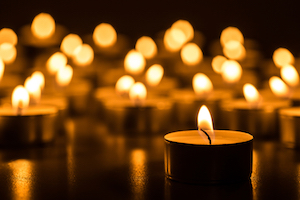 Whether you use candles during a power outage, as part of a holiday ritual, or for ambience, exercise special care. The New York City Fire Department (FDNY) reports that, unlike other causes of home fires, candle fires have increased. In the past 10 years, the number of home fires caused by candles has tripled.
According to the National Fire Protection Association, roughly one-third of candle fires in the home started in bedrooms. Falling asleep played a role in 11% of home candle fires. More than half (59%) of home candle fires were caused when combustible material, like paper or fabric, came too close to the flame.
Candle Safety Tips
When burning candles, take the following precautions:
Use sturdy candle holders that will not tip over easily. These holders should be designed specifically for candle use: heat-resistant and large enough to contain dripping wax.
Place candle holders on a stable, heat-resistant surface free from clutter.
Keep burning candles away from anything that can catch fire: furniture, drapes, papers, etc.
Trim candle wicks to 1/4 inch before burning. Trimmed wicks not only reduce soot and prolong the candle life, but they also prevent uneven burning and dripping.
Never leave a burning candle unattended. Abandoned candles caused more than 33% of home candle fires, according to the FDNY. (Half the people who died in candle fires were younger than 20, with most victims between the ages of 5 and 9.)
Don't use decorative or floral candle rings. (See earlier tip about keeping candles away from flammable materials.)
Extinguish candles when they burn within two inches of the holder.
Do not use candles as an emergency light source. Flashlights and battery-powered lanterns are safer sources of illumination.
For more information about candle safety, visit the website of the National Candle Association.

We hope you found these candle safety tips helpful. To ensure proper protection from fires and other hazards, contact our office at 877-576-5200 for a complimentary insurance review.