It's 'Fix a Leak' Week: Inspect Those Toilets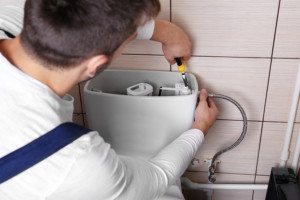 Did you know it's national Fix a Leak Week? The New York City Department of Environmental Protection (DEP) is encouraging New Yorkers to identify and fix water leaks in their homes—especially leaky toilets, which can cost as much as $49/day. For landlords who include water in the rent, these losses can add up to a serious hit on the bottom line.
Leaky Toilets = High Water Bills
According to the DEP, even small leaks can have a big impact on water and sewer bills.
A small leak (30 gallons/day) costs $0.37 each day.
A medium leak (250 gallons/day) costs $3.10 each day.
A large leak can waste up to 4,000 gallons/day, up to $49 every day.
As an owner of a multi-family property, you'll need to inspect occupied apartments on a regular basis to provide maintenance. After each move-out, you'll also need to check the pipes and water fixtures for leaks, while making sure they work properly.
Common Toilet Leak Causes
Flappers and fill valves are the two most common culprits behind toilet leaks.
Flappers can warp or become damaged through use of chemical cleaners.
In addition, the flapper or chain may fall out of alignment with the flush valve, creating a gap.
Debris can damage the flush valve over time, resulting in small cuts that cause a leak.
Sometimes the fill valve sticks in an open position, and water flows down the overflow tube.
For "flushometer" toilets that don't have a tank—about 30% of the residential toilets in New York City—leaks can still occur, despite having few moving parts:
Water moving in the bowl when the toilet has not been flushed indicates a leaky valve that should be repaired or replaced.
"Phantom flushes" can result from pressure changes in the building. Contact a licensed plumber for further investigation.
DEP recommends that building owners perform annual dye tablet tests on standard toilets with tanks. These non-toxic tablets go into the tank. After 15-20 minutes, the presence of dye in the bowl signifies a leak.
Automated Meter Reading Systems
DEP in installing an Automated Meter Reading (AMR) system that can provide early warning of water leaks and high utility bills. The new system will increase billing accuracy and help customers manage their water usage. DEP contractors are installing the wireless transmitters at no cost and will also replace old water meters. Citywide conversion to the automated systems is expected to take three years, per the DEP website.
To schedule installation or repair of an AMR device, contact DEP at 718-595-7000.
We hope you found this information helpful. While we're on the subject of plumbing, you may also enjoy our 5 Tips on Preventing Frozen Pipes article.