Jersey City Fire Escapes Pay Off with Big Insurance Savings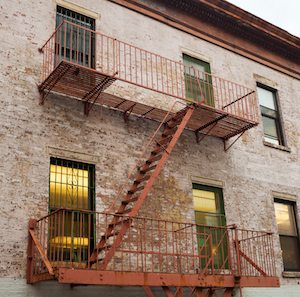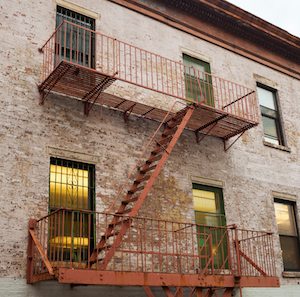 Certain building owners in Hudson County, N.J., are realizing huge savings in insurance premiums—more than 50% in some cases. And they're not gambling on a bare-bones insurance policy. Jersey City fire escapes qualify owners of three-story buildings for a comprehensive policy at a discounted rate. (Property owners in Hoboken, Weehawken and other parts of Hudson County also qualify.)
As we've mentioned in earlier posts, there's a new player in the New York City insurance market, an A+ rated carrier that's offering steep insurance discounts for buildings with life safety features. While building owners in the five boroughs are saving money, the new program really pays off for their counterparts across the Hudson River. Specifically, Jersey City fire escapes on three-story buildings qualify property owners for an insurance policy that includes the following:
Replacement cost coverage
Mold & pollution coverage
Online billing/payments
Easy-pay installment plans (as little as 10% down)
Jersey City Fire Escapes: Success Stories
Already this brand-new program is paying off big for owners of three-story buildings with fire escapes:
The owners of a three-story, six-unit apartment building lowered their insurance premium from $5,900 to $3,755—savings of more than 36%.
The premium for a three-story, 12-unit apartment building dropped from $9,537 to $4,254—more than 55% in savings.
There are no hidden fees or unpleasant surprises in store when filing a claim.
After crunching the numbers, an A+ rated carrier has decided to pass along some of the savings associated with life safety features, like fire escapes and sprinklers. The fact that the program is offered by a leading industry player sweetens the deal. Customers enjoy additional convenience features, such as electronic payments, online account access and billing installments.

If you own a three-story building with fire escapes in Hudson County, New Jersey, you qualify for this new insurance program. Call us at 877-576-5200 or fill out a quote request and find out how much money you can save.