Keep Summer Fun with These Grilling Safety Tips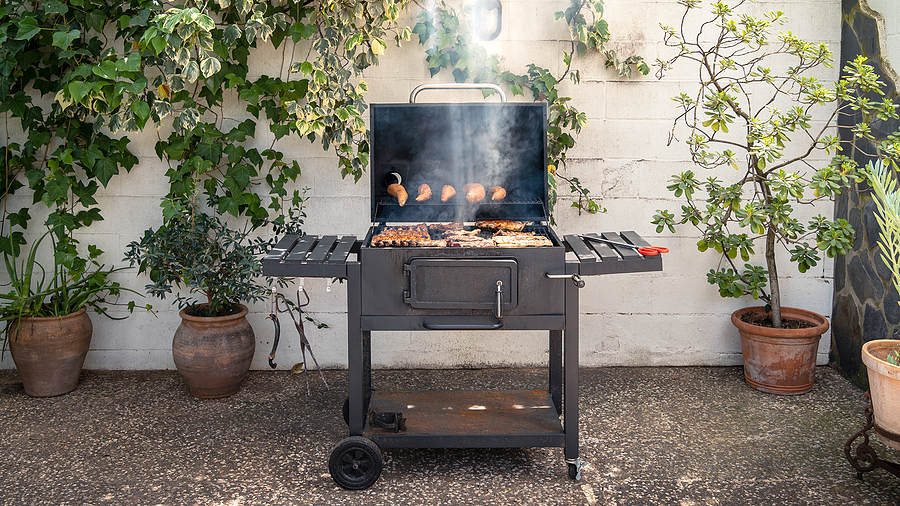 With the official arrival of summer, many people enjoy spending the warm evenings outside, grilling on a barbecue in their yard or at a public park. Whether you're organizing an event or simply hanging out with your family, it can be tough to determine which grills are allowed by local code. This article covers the types of barbecue grills permitted in New York City, as well as fuel-specific grilling safety tips to help you and your family safely enjoy cooking outdoors this summer.
Barbecue Types and Associated NYC Safety Laws
The NYC Fuel Gas Code and the NYC Fire Code regulate barbecue grills based on the fuel type.
Propane Gas Barbecues
It's illegal to store a propane gas barbecue on a balcony, roof, yard or courtyard in an apartment building or other residential building. However, you can use a propane tank that's smaller than 16.4 ounces for a short period of time on a roof, as long as you have your building's permission.
Propane barbecues are permitted in one- or two-family homes, with a limit of two 20-pound liquefied petroleum gas (LPG) containers.
When using a propane gas grill:
Do not store propane cylinders indoors or in the trunk of a car.
Regularly check the cylinder for signs of damage.
When lighting a propane barbecue, make sure all connections are secure.
After you finish barbecuing, shut off the propane fuel at both the grill and the cylinder, and plug the outlet valve.
In case of a fire, if you can safely reach the cylinder valve, shut it off.
Natural Gas Barbecues
Barbecues that are connected to natural gas piping must be installed by a Licensed Master Plumber and inspected regularly, according to the NYC Fuel Gas Code.
Safety tips for natural gas barbecues:
Before using a natural gas grill, check for gas leaks by rubbing a soap and water mix over the hose. Bubbles indicate a gas leak.
Always light a natural gas barbecue with the lid open.
If you ever smell gas, turn off the supply immediately.
Examine hoses for cracks or places where small animals or insects might have caused damage.
Only open the gas valve by a half turn so that it's easier to turn off in an emergency.
Charcoal Barbecues
It's legal to cook with a charcoal barbecue in a backyard or paved patio, as long as it's installed 10 feet away from any structure or flammable material. Charcoal grills are not permitted on a roof or balcony.
When using a charcoal grill:
Avoid using lighter fluid or other accelerants to light a charcoal barbecue. Use a chimney starter or long-stemmed matches instead.
Make sure the outdoor area is well-ventilated to avoid carbon monoxide poisoning.
Never store charcoal grills indoors.
If you're in a city park, dispose of coals according to the park's posted regulations. Find a public barbecuing area here.
Electric Barbecues
Electric barbecues can be legally installed and used pretty much anywhere, including balconies, terraces, and roofs or in a yard. Follow the manufacturer's instructions to make sure your outlet has the voltage required to run the grill. (Some models require 220V; standard outlets only provide 110-120V.)
Safety tips for electric barbecues:
Make sure grease doesn't drip on the heating coils or it could ignite.
If you need an extension cord, check that your cord is safe to use with your grill in the manufacturer's instructions.
Run the grill's power cord nearby so that you can easily pull it to shut off the grill in an emergency.
General Grilling Safety Tips
Follow these general safety tips with any barbecue type:
Keep your barbecue at least 10 feet away from anything that can catch fire—including structures, walls, decking, trees or furniture. Place your barbecue on concrete, brick or metal.
Always store grills outdoors.
Do not store or use a grill on a fire escape.
Keep a fire extinguisher, hose, water barrel or sand nearby when grilling.
Never grill indoors or in poorly ventilated areas.
Plan ahead with food preparation steps so that you never have to leave your grill unattended.
Clean your grill regularly to avoid grease build-up, which can catch fire.
Check for fuel leaks by rubbing a soap and water mix over hoses and watching for bubbles.
Wear protection on your hands as you season or place food.
Use utensils with long handles.
 homeowners insurance review, please call us at 877-576-5200 or leave a comment below.