New York City Requirements for Snow and Ice Removal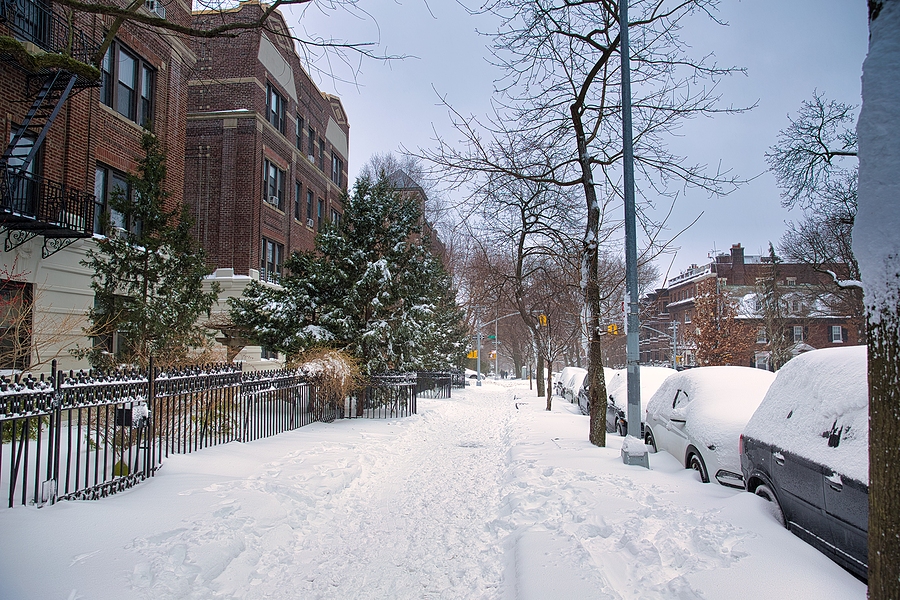 Building owners (or their tenants/lessees) in New York City are required to clear their sidewalks of snow and ice. The deadline depends on when the snowfall ends.
Winter weather has finally arrived here in New York City. That means snow and ice are just around the corner. Building owners, tenants, lessees, occupants, or others in charge of a lot or building must clear snow and ice from their sidewalksto create a path for pedestrians. Snow and ice removal responsibilities also include sidewalks next to bus stops and hydrants.
Failure to remove snow and ice within the time required by New York City's Administrative Code can result in a Department of Sanitation (DSNY) violation. Fines range from $100 to $150 for the first violation, up to $350 for a second or third offense.
Removal Deadlines
New York City does not accept complaints for snowy or icy sidewalks while snow is falling. When the snow stops determines when building owners (or other responsible parties) need to clear the sidewalks.
If the snowfall ends:
Between 7:00 a.m. and 4:59 p.m. Sidewalks must be cleared within four hours.
Between 5:00 p.m. and 8:59 p.m. Sidewalks must be cleared within 14 hours.
Between 9:00 p.m. and 6:59 a.m. Sidewalks must be cleared by 11:00 a.m.
Snow and Ice Removal
Building owners or tenants/residents must clear the entire sidewalk. DSNY has issued violations or clearing only a path through the snow.
If the snow or ice has frozen so hard that it cannot be removed, the city allows owners (or other responsible parties) to place "ashes, sand, sawdust, or similar suitable material" within the same time limits. However, the sidewalk must still be cleaned thoroughly as soon as the weather permits.
New York City prohibits shoveling snow into the streets or on top of fire hydrants.
Slippery Sidewalks
De-icing salt is not included in the materials specifically listed by the law for use on frozen snow and ice. While it's unclear whether DSNY would consider salt a "suitable material," owners or tenants should exercise caution.
Salt melts snow and ice. If the resulting water is not cleared or allowed to drain, it can re-freeze and make the sidewalk even more slippery, which could expose the responsible party to a lawsuit.
Similarly, responsible parties need to beware of water that may drip from the building onto the sidewalk. During cold weather, this water can form ice, which must be removed.