Legal, financial and insurance documents: Now is the time to organize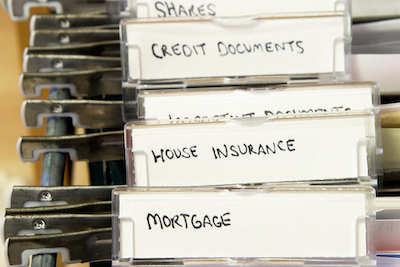 It may not be as much fun as an evening spent binge watching, but organizing your medical, legal, financial and insurance documents could be a lot more satisfying.
This bit of housekeeping could even save you and your family a lot of time and trouble down the road. When you ask, "Is that covered?" or "When did I have that operation?", you'll have the answer at your fingertips.
It can also be lucrative. According to the National Association of Unclaimed Property Administrators, American workers have left billions of dollars behind in retirement accounts when switching jobs. The Pension Benefit Guaranty Corporation estimates that more than 38,000 people in the U.S. haven't claimed over $300 million in pension benefits they are owed. The Millennium Trust Co. says that more than 900,000 workers lose track of 401(k)-style, defined-contribution plans each year.
That doesn't include forgotten bank accounts, lost life insurance policies with significant cash value, and legal and property records that include financial benefits of some sort.
Then, there are the day-to-day documents that prove ownership of property, payment of debts, satisfactions of legal judgments and critical medical information.
Some legal, financial and insurance documents are probably in a safe deposit box or a fire-resistant box or safe. Others may be stored electronically in your computer. A few may be missing.
This is a great time to get it all updated and organized, both for your own convenience and for your family.
Here's how to start.
Getting Your Medical, Legal, Financial and Insurance Documents Organized
First, make a list of all of the records you need to find and keep. This can include:
Collectibles. Photos, appraisals, receipts
Education. Diplomas, certificates, other records
Estate. Wills, trusts, powers of attorney, instructions
Financial. Bank accounts, brokerage accounts, stock/bond certificates, annuities
Insurance. Life, health, disability, long-term care
Legal. Marriage and divorce certificates, business and professional licenses, judgements, contracts
Medical. Medications, physicians, allergies, operations/procedures
Property. Property deeds, mortgages, lines of credit, liens, auto/boat/plane titles
Retirement. Pensions, retirement accounts, trusts
Tax. Returns, supporting documents
When applicable, include information that your family may need, such as contact info for brokers, agents, advisors and companies.
Then, decide how you're going to store everything. The best practice is to scan everything and store that information in multiple places, including:
on your computer
backed up to the cloud
on a USB drive stored in a safe and secure place
Some apps use your phone camera to capture information.
Then, store all paper documents in a safe deposit or fire-resistant box or safe.
Finally, set a schedule for how long you maintain your information. Property records, as well as receipts for repairs, maintenance and additions, should be kept until the property is sold. Tax records should be kept for seven years. Documents tied to property and possessions should be kept until the item is disposed of by sale, gift or donation. Retirement, insurance, estate and legal information should be retained for a lifetime. So should passwords and other login information for all online accounts.
Make sure someone besides you—a friend or family member, attorney or other trusted person—knows where everything is and how to access it.
Organizing your life might not be as entertaining as your usual evening. But in the long run, it will be more helpful and satisfying than you can imagine. And now is a great time to get started.
If you have any questions about insurance or your current insurance policy, or if you would like a free insurance review, please call us at 877-576-5200.