Natural Disasters + Inadequate Insurance: Homeowner Hits Keep Coming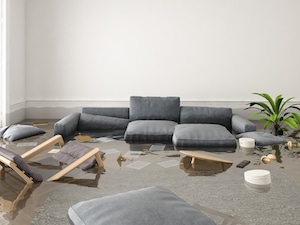 According to a recent article in The Wall Street Journal, homeowners who experience catastrophic loss in floods and fires often face yet another disaster: inadequate insurance coverage. Many residents affected by major hurricanes and wildfires could not fully repair their homes with insurance payouts because they did not understand what their policies included—or excluded.
The article cited several underlying issues:
Lack of flood insurance
Insufficient policy limits
Inadequate home inventories
Lack of Flood Insurance
Standard insurance coverage excludes flood damage. Homeowners with federally backed mortgages must buy flood insurance if they live in a designated high-risk flood zone. However, recent storms have shown that flooding can damage homes outside high-risk areas.
Even if flood insurance is not required, property owners who can afford it should consider the protection for peace of mind. The U.S. government is the largest provider of flood policies to homeowners and small businesses. Such government policies pay up to $250,000 for rebuilding and $100,000 for contents, and they usually have a 30-day waiting period. Some private insurance companies also offer flood protection, generally for amounts above federal policy limits. (Here in the Northeast, most homeowners should consider supplemental coverage.)
Insufficient Policy Limits
Low policy limits are another common issue. Many homeowners who renovate their homes often forget to increase their policy limits. Sometimes building owners fail to adjust their coverage limits to account for rising real estate values and construction costs.
When considering policy limits, keep in mind the law of supply and demand. Building materials and labor costs typically surge in the wake of a natural disaster.
In addition, homeowners need to know whether their policies use an actual cash value (ACV) coverage or replacement cost value (RCV) coverage. ACV coverage means that claim payments are made on an asset's depreciated value, which can be much less than replacement cost.
Inadequate Home Inventories
An up-to-date home inventory not only makes it easier to replace personal belongings, but it's also an important tool for ensuring adequate coverage. The article cited one Houston homeowner who ran from room to room, taking photos as Hurricane Harvey approached. She used the photos—as well as additional pictures of damaged items hauled out of her home—to create an inventory.
Following widespread disasters, such as last year's wildfires in California, some insurance companies have partially waived their inventory requirements. Still, no one wants to rely on such exceptions. (Check out this article for tips on how to make the home inventory process easier, before a loss.
Do you have questions about your insurance policy or coverage limits? Call our office at 877-576-5200 for a free, no-obligation insurance review and peace of mind.