NYC Fire Safety Law Targets Nuisance Alarms, Upgrades Detector Standards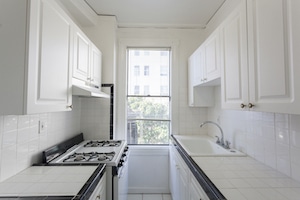 Earlier, the New York City Council passed a series of fire safety bills in response to the December 2017 kitchen fire that claimed 13 lives in a Bronx apartment building. The first fire safety law regulates the types of smoke alarms and smoke detectors to be installed near cooking appliances.
The recent legislation follows the release of new smoke alarm standards by UL, a global leader in safety science. Those standards, published in February 2018, include criteria to reduce nuisance alarms—false alarms triggered by things like cooking smoke and hot showers. The requirements also address smoke characteristics between a fast-moving fire and one that smolders.
Fire Alarm Types: Ionization & Photoelectric
The two most common types of smoke detectors use ionization and photoelectric sensors.
Ionization smoke alarms have a tiny amount of radioactive material positioned between two electrodes. The radioactive substance ionizes the air and creates a current between the electrodes. When smoke enters this chamber, it bonds to the ions and disrupts the current, which triggers the alarm. This type of alarm generally responds faster to active, flaming fires.
Photoelectric smoke alarms aim a light source into a sensing chamber, angling the light away from the sensor. When smoke enters the chamber, it reflects light onto the sensor and triggers the alarm. This type of alarm generally responds faster to smoldering fires.
The new UL requirements for smoke alarm and smoke detector systems will have advanced sensing technology that can reduce nuisance alarms from cooking, while still offering increased sensitivity and better overall performance.
New Smoke Alarm/Smoke Detector Requirements Under NYC Fire Safety Law
Effective immediately, smoke alarms and smoke detectors may not be installed within 10 feet along a horizontal flow path from a cooking appliance unless listed for installation in close proximity to cooking appliances. Smoke detectors and smoke alarms installed between 10 and 20 feet along a horizontal flow path from a cooking appliance must either use photoelectric detection or have an alarm-silencing button.
Photoelectric smoke alarms or smoke detectors may be installed within a 6- to 10-foot radius  of a cooking appliance under the following conditions:
No clear interior partitions or headers separate the kitchen or cooking area from adjacent spaces AND
The 10-foot area of exclusion would prevent placement of such devices required by other sections of the New York City Fire Code.
As of January 1, 2021, all smoke alarms and smoke detectors installed or replaced in residential buildings within 20 feet of a cooking appliance must meet the standards established in the 8th edition of UL 217 for smoke alarms or the 7th edition of UL 268 for smoke detectors.
The new law is designed to reduce the number of false alarms created by routine cooking, which sometimes encourage residents to disarm or remove the safety devices.
Advice for Building Owners
To assist with compliance, the Community Housing Improvement Program (CHIP) recommends that property owners start using only photoelectric smoke detectors when replacing or installing the devices within 20 feet of a cooking appliance—including microwave ovens.