Did You Know We Offer Seasonal & Vacation Home Insurance?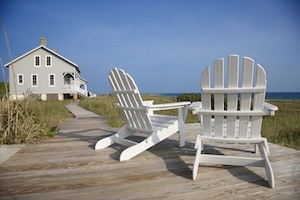 Are you one of the many New York-area residents who spend weekends at a summer home? Whether you head to the Hamptons or the Jersey Shore or you have a mountain retreat in the Poconos or Catskills, City Building Owners Insurance can provide seasonal & vacation home insurance through our sister company, Somers Agency.
Seasonal & Vacation Home Insurance
Our seasonal and vacation home insurance policies come with the following types of protection:
Comprehensive coverage. Our policies offer special form coverage, which protects your home and contents against all sudden losses—unless specifically excluded, like water and sewage backup, for instance. (Certain perils—again, like water and sewage backup—can be added.)
Replacement value. This type of protection makes recovering from a loss easier (although it's never fun). The policy reimburses you the amount required to replace your possessions without deducting for depreciation. Deductibles, of course, still apply.
Liability protection. Liability coverage protects you if you're found legally responsible for bodily injury or property damage to others.
Call our office at 877-576-5200 for a quote on a custom policy designed to protect your unique home away from home.
Why choose Somers?
Somers Agency delivers the same personalized service that has made City Building Owners Insurance a leader in landlord insurance. Speak to one of our friendly team members, and we'll find the best policy for your needs. (We define "best" as the insurance that will give you the right protection at the lowest cost. Even though we love to save clients money, we only work with highly rated carriers, which means you won't have a problem at claims time.)
Call our office at 877-576-5200 for a free, no-obligation review of your current seasonal and vacation home insurance policy.