Newest Inductees in Insurance Fraud Hall of Fame (or Shame)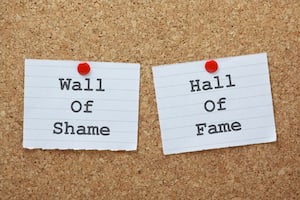 Insurance fraud hurts everyone, even the policyholders (like you!) who are honest and ethical. When an insurance company pays claims that are unwarranted, the other policyholders wind up shouldering those costs.
But some insurance fraud costs more than money: it can cost lives. The Coalition Against Insurance Fraud, a group of insurance, consumers and government organizations, recently announced its newest inductees into the Insurance Fraud Hall of Shame. Unfortunately, the stories aren't amusing.
A nail salon owner in Kansas City, Missouri, was convicted of arson after she torched her business for the insurance money. Two firefighters died, and two more were seriously injured fighting the blaze. The three-alarm fire required 110 firefighters and left several people in the 16 apartments above the salon homeless. Instead of the $40,000 insurance payout she'd been expecting, she received a 74-year prison sentence.
A fraud ring in South Florida took auto insurers for $23 million over a period of seven years, driving Bentleys and enjoying lavish lifestyles. Police employees, tow truck drivers, body shops, hospital staff, ambulance workers, attorneys and doctors were all in on the scheme. The hefty prison sentences the participants received won't make up for the fact that, not coincidentally, Florida drivers pay some of the highest insurance premiums in the country.
A Brooklyn man managed a series of flophouses disguised as sober living facilities for recovering addicts and alcoholics, recruiting corrupt rehab firms to defraud Medicare. The fraudster lived the good life, with luxury vehicles and a $3.5 million home. His current accommodations, a prison cell, are decidedly more modest.
An Atlanta mother poisoned her disabled infant son for a $50,000 insurance payout. She also continued cashing Social Security disability checks after he died, created online fundraising accounts, and even tried to sue the hospital that treated him. She received a sentence of life plus 83 years.
The largest physician bribery scheme in history, where doctors were encouraged to send patients to labs for unneeded blood work, resulted in $100 million of fraud to health insurers and Medicaid. The money went to cars, strip clubs, steak dinners, private jets, Super Bowl tickets and other lavish spending. It also led to a lengthy stint in federal prison.
Another case of arson, this one in Cincinnati, resulted in the death of a firefighter who thought the owners were trapped inside. They were actually gambling in Las Vegas while someone they'd hired torched the home for a $250,000 insurance check. The jail term: life without parole.
A Detroit man flooded the streets with $6.6 million in painkillers and recruited homeless addicts to submit to painful injections they didn't need. Medicare was taken for $300 million. The mastermind and seven physicians have been found guilty and are awaiting sentencing.
A Florida insurance adjuster whose job was to help fix damaged homes burned and flooded dozens of them instead, collecting $414 million in inflated insurance claims. At least 14 insurance companies were defrauded. After being arrested, he attempted to hire a hitman to kill the lead prosecutor. His plan fizzled.
Finally, a Los Angeles woman stole the identities of suffering and scared drug addicts and generated inflated bills from her string of rehab centers, defrauding insurers for more than $175 million. She received an 11-year prison sentence.
The moral: Insurance fraud costs innocent policyholders, as well as the guilty.
We hope you found this article interesting. If you any questions insurance or your current insurance policy, or would like a free insurance review, please call us at 877-576-5200.