NYC HPD Publishes 2019 Housing Information Guide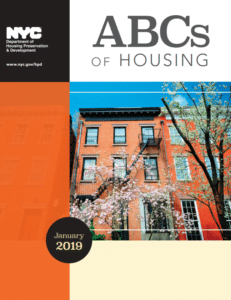 As we've done previously, this article highlights updates in the latest edition of New York City's Department of Housing Preservation & Development (HPD)'s housing information guide, The ABCs of Housing.
Owners of multiple dwellings (residential buildings of 3+ units) should download this free guide and keep it handy. (And don't forget to post the required notice.) Although it isn't a comprehensive guide to every regulation and law that govern owners and tenants in New York City, the publication is packed with helpful information.
New regulations are spotlighted in the guide's table of contents. For landlords, the significant changes are covered below.
What's New in the 2019 HPD Guide

Self-Closing Doors
HPD worked with the City Council to enact new legislation. Failing to meet the existing requirements for self-closing doors next to stairways and hallways is now a Class C violation. As a reminder, in all multiple dwelling buildings, the following doors must be self-closing:
Building entrance doors
Unit entrance doors
Fire stair doors
Fire tower doors
Bulkhead doors
Rubbish chute closet doors
Other doors accessing the public hall/stairs (building commercial space, garage areas, etc.)
Stove Knob Covers
Building owners must provide stove knob covers for gas stoves when the owner knows, or reasonably should know, that a child under six years of age lives there. In addition, owners must provide stove knob covers upon tenant request, even if a child under six isn't present in the unit. Property owners must also provide an annual notice to tenants regarding the installation of stove knob covers. Tenants that do not want the covers must notify the owner in writing. Learn more about this requirement here.
Emergency Planning and Evacuations
Building owners and managers have new responsibilities for emergency preparedness for building residents and staff. Regulations now include:
Prepare and distribute a fire and non-fire emergency preparedness guide and post certain notices. More info here.
Be prepared to address requests from residents with disabilities or other functional issues that may affect their ability to evacuate in an emergency.
Monitor emergency notification systems operated by the New York City Department of Emergency Management, the New York City Police Department, and/or private notification systems.
Review the Fire Department's NYC Apartment Building Emergency Preparedness Guide (and other public and private resources) as a basis for emergency plans. Guides and other resources are here.
The free HPD housing information guide is packed with valuable information for building owners and managers, and is well worth the download.
If you have any questions about landlord insurance coverage or would like a free insurance review, please call us at 877-576-5200.