NYS Bans Sale of Removable-Battery Smoke Detectors, Effective April 1, 2019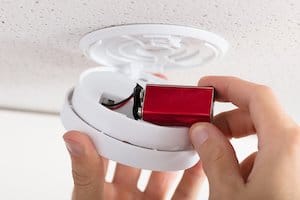 New York is moving to make removable-battery operated smoke detectors things of the past on April 1, 2019.
Specifically, only smoke detectors with a sealed, 10-year battery can be sold in New York after that date. According to the New York State Association of REALTORS (NYSAR), New York's General Business Law §399-ccc, which governs smoke-detecting devices, will eliminate smoke detectors powered only by replaceable, removable batteries.
Hard-wired smoke detectors will still be legal.
Sales and Rentals Not Affected by New Removable-Battery Smoke Detector Law
Some local media outlets were reporting that, effective April 1, all home sales and rentals would need the upgraded, closed-battery systems. However, section 3 of the law states:
The provisions of this section shall not apply to solely battery-operated smoke detecting alarm devices powered by a replaceable, removable battery that have been ordered by, or are in the inventory of, owners, managing agents, wholesalers or retailers on or before the effective date of this section.
Although owners, property managers and landlords don't have to replace existing smoke detectors, any smoke detectors replaced or added after April 1 must be hard-wired or powered by a sealed, non-removable 10-year battery. (So don't stock up on the cheaper, removable-battery units now to use later.)
If, after April 1, a smoke detector needs to be replaced before a sale, or as part of a sale or rental, the new smoke detector must comply with the new law.
Carbon Monoxide Alarms
Please remember that carbon monoxide (CO) detectors/alarms must be installed in all new and existing one- and two-family units, multi-family units and rentals that have any fuel-burning appliances, systems or attached garages. This includes oil, natural gas, propane, etc. While this regulation isn't new, it bears repeating.
You can learn more about the requirement, also known as Amanda's Law, here.
If you any questions about how smoke and CO detectors and other safeguards can affect your insurance, or would like a free insurance review, please call us at 877-576-5200.