Own a Smart Home? Be Smart About Security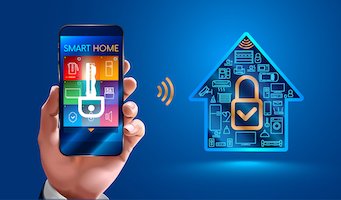 Lights you can turn on remotely. A front door camera you can access while you're at work. Smart thermostats, networked devices and conveniences that would have been unthinkable as recently as five years ago. But the devices that make life more convenient for you also make it more convenient for thieves and hackers. A connected home is also a vulnerable home requiring smart home security, security experts say.
Recently, security research firm Synack released a study that showed that certain home security cameras, home automation centers, thermostats and other smart, Internet-connected devices could be hacked into in as little as 20 minutes. Security firm Rambus estimates that 80% of all Internet-connected devices are vulnerable to a wide range of attacks.
The problem is compounded if you access your home devices remotely. If that coffee shop wi-fi isn't secure, that stranger at the next table could be busy electronically breaking into your smart home devices while you're adjusting your thermostat or turning off lights. Even worse, he could be disabling your smart lock and orchestrating a break-in while you're enjoying your mocha latte.
What about your data?
There's growing concern about the data that many smart home devices collect, and what parent companies do with that data, notes Bloomberg Law. Companies aren't always up-front and transparent about what data they collect and how they use it. Devices such as Amazon's Echo, Google's Home Hub and others are always listening for their "wake words," and there have been some reported instances where conversations were recorded and sent to strangers.
Smart home security tips
According to Symantec, the technology firm behind Norton (industry-leading computer security software), here are ways to make your smart home smarter about security:
Change the default username and administrative password on all wireless devices and equipment on your network.
Turn on Wi-Fi Protected Access (WPA), a security protocol that encrypts network communications, on your wireless router.
Turn on all firewalls on your computers and wireless router.
Make sure you have security software installed on every computer, and keep it up to date.
Use a password on your phone, and make sure it auto-locks when not in use.
Make sure the capability to remotely find and wipe your phone if it gets lost or stolen is enabled.
Keep operating systems on all smart devices up to date; manufacturers update security often.
If you are considering adding a new home security system, see Best Home Security Systems for 2020 on Money.com.
Related article: How to Protect Your Packages and Your Identity
If you any questions about insurance or your current homeowners insurance policy, or would like a free policy review, please call us at 877-576-5200.