Kidde Recalls Fire Extinguishers with Plastic Handles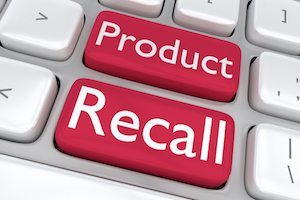 Earlier this month, Kidde recalled nearly 40 million fire extinguishers. The recall includes 134 models of fire extinguishers with plastic handles and eight models with plastic push-button Pindicators. Affected models can become clogged or require excessive force to discharge, failing to activate in a fire emergency. Also, the nozzle can detach with enough force to create an impact hazard.
The recall affects fire extinguisher models produced as early as January 1973 and as late as September 2017. Sold under various brand names, including Honeywell, Mariner and Sears, the extinguishers are red, white and silver and are either ABC- or BC-rated.
For full details and to determine whether your fire extinguishers are affected, visit the United States Consumer Product Safety Commission.
Consumers should immediately contact Kidde to request a free replacement fire extinguisher and for instructions on returning the recalled unit, which may not function in a fire emergency.
Affected models have been linked to a 2014 death involving a car fire after a crash when emergency responders could not activate extinguishers. In addition, the manufacturer has disclosed approximately 391 reports of failed or limited activation, including the fatality, or nozzle detachment. These incidents resulted in approximately 16 injuries and 91 reports of property damage.
As temperatures drop, the risk of fire increases. Please check any fire extinguishers in your home, office, apartment buildings, vehicles and watercraft. The above CPSC website link includes details on affected model numbers and how to identify model and date numbers on your extinguishers.
You can also contact Kidde toll-free at 855-271-0773 from 8:30 a.m. to 5:30 p.m. ET Monday through Friday, 9 a.m. to 3 p.m. ET Saturday and Sunday, or online at www.kidde.com and click "Product Safety Recall" for more information. You may also want to read How to Choose and Use a Fire Extinguisher.