Remote Monitoring Technology Can Save Your Home (and Your Money)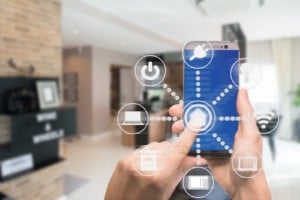 Winter can be especially rough on houses. Pipes can freeze or burst. Roofs can leak. Winter storms can cause all sorts of problems, some of them expensive.
When you're not there to keep an eye on things, a small problem can become a big problem. A pipe that starts to freeze can burst and ruin floors and ceilings. A small leak can become a gusher. And now your weekend or vacation home needs thousands of dollars in repairs.
Remote Monitoring Technology
The good news is, remote monitoring devices have become extremely affordable. Smart sensors can monitor pipes and leaks. They can detect smoke and intruders. And many insurance companies recommend remote monitoring and may lower premiums, depending on the installed technology.
Inexpensive sensors start at $50 and can offer peace of mind:
Prevent water damage with water detection sensors
Avoid pipe freezing through use of temperature sensors
Monitor power consumption
Enhance security by tracking movement inside and outside
Get an alert if a door or window is opened or smashed
Monitor temperature and humidity
See who's at the door or on your property
Most require Wi-Fi, though some can use your cellular network. Most, if not all, allow you to set up alerts and monitor your home via an app or website. Many are either battery-powered or have battery back-up. In the event of a power failure, you can still remotely monitor your property.
Get the Inside Scoop
Although we don't recommend specific products, we can tell you which policies offer premium reductions when remote monitoring technology is installed. We can also tell you which companies require (or may soon require) remote monitoring for homes that aren't regularly occupied.
Even if your insurance policy doesn't require remote monitoring for your weekend/vacation/second home, we highly recommend it. The technology isn't expensive or difficult to install. The savings can be substantial, especially if remote monitoring helps you avoid a burst pipe or other disaster. And the peace of mind is priceless.
If you've already installed remote monitoring devices, please remember to contact your insurance partner. And if you have questions about your current insurance coverage, call our office at 877-576-5200 for a free, no-obligation policy review.