In the Trenches: Right-Sized Policy Pays Off After Fire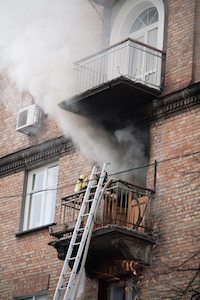 Our mission at City Building Owners Insurance is simple. We help owners of small buildings in the New York City area get the right coverage at the best price. This philosophy recently paid off for the owner of a mixed-use property in Brooklyn, where a fire broke out on Valentine's Day.
When the owner contacted us about the claim, we referred her to independent adjusters, with whom we've worked over the years. They immediately began assisting with the recovery process.
"They've been great and have done everything they could to get everyone back into their apartments," she wrote. "Thank you for making me take out so much insurance (even though I squawked)."
Smart Shopping
The building owner initially contacted us in the fourth quarter of 2012, while shopping around for a new commercial insurance policy. The current policy expired the following month, and renewal premiums were expected to double.
We discussed the current coverage on the property, a four-story building with 12 residential units and two commercial spaces on the ground floor. Based on the property profile, we recommended increasing the building coverage and liability coverage. We also improved the policy in other ways:
Increased sewer and drain backup coverage
Added flood coverage
In the end, the client received a better policy for less money. The insurance premium decreased by 14%, compared to the original policy.
Peace of Mind
No one wants to go through the ordeal of an insurance claim, especially an expensive event like a fire. But the right policy—and partner—can help building owners move past the disaster with minimal disruption.
We help building owners at every stage of the process to provide maximum peace of mind:
Before the claim. Deliver the right coverage at the best price
After the claim. Provide guidance to recover from the loss
Any time. Answer questions and ensure owners get the best policy and pricing