Substituting for Staples When Grocery Stores Are Out of Stock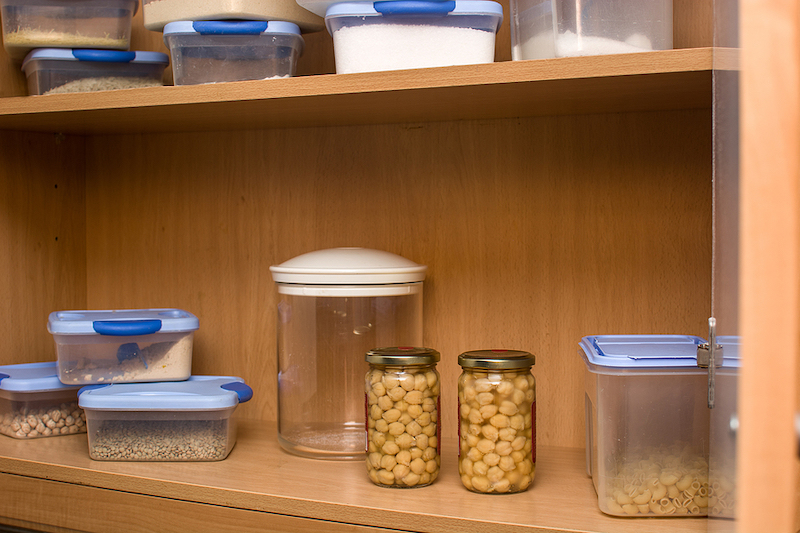 The recipe calls for baking powder, and there's none at the store or in your pantry. That buttermilk biscuit recipe sounds awesome, but you don't have the namesake ingredient.  Or maybe you don't want to cook with wine or buy a whole container of something for just a couple of tablespoons. Smart cooks know that substituting for staples works just fine. Here are a few substitutes you might want to try.
Substituting for Baking and Cooking Staples
Baking supplies have been hit or miss lately, with random empty spots on shelves in the baking aisle. Unlike a lot of stovetop cooking, baking often depends on chemistry, which can make substitutions tricky.
Some stovetop substitutions are more forgiving. Substituting for the pumpkin spice you don't have may change the flavor of your custard, but the results will still be fine. You may even invent a new family favorite.
Substitutes for Wet Ingredients
Buttermilk. Substitute another dairy product with some added acid. Add a tablespoon of lemon juice or white vinegar to a cup of cream, whole milk or 2% milk. Let it stand at room temperature for 5-10 minutes until it becomes slightly thickened, and you see small, curdled bits. It won't be quite as thick and creamy as real buttermilk but will work just fine in batters. In a pinch, yogurt or sour cream thinned with milk (or plain water) will also work, though you may have to adjust the acidity.
Eggs. Some recipes can't use an egg substitute—hard to get stiff peaks without egg whites—but some baking is forgiving. For brownies, cake or some other bready treat, try one of these options: silken tofu (1/4 cup = one egg); mayonnaise (3 Tbsp = one egg); banana and baking powder (1/2 mashed banana + 1/2 tsp of baking powder per egg).
Vegan egg substitutes. Substitute a mixture of 1 Tbsp whole raw flax or chia seeds with 3 Tbsp water. Finely grind seeds in spice grinder or mortar and pestle. Sift and mix with water. Cover and refrigerate for 15-60 minutes to thicken (one hour is best).
Baking chocolate (one ounce). Combine 3 Tbsp cocoa powder with 1 Tbsp butter, margarine or vegetable oil for unsweetened chocolate. For semisweet chocolate, add 1 ½ tsp sugar. Increase the sugar to 4 tsp for sweet chocolate. Mix with the liquid already in the recipe.
Wine. Substitute an equivalent amount of broth; adjust salt as necessary.
Sweetened condensed milk. Simmer 2 cups whole or low-fat (not skim) milk with ⅔ cup white sugar on low heat in a small, heavy bottomed saucepan until the milk has darkened to a creamy color and reduced by half (35-40 minutes). The liquid should be slightly thickened. Gently skim off any foam with a spoon. Do not stir once the mixture starts simmering. Also, resist the temptation to stir any sugary bits at the edge into the mixture. Store in a jar in the refrigerator; mixture will thicken more as it cools.
Substitutes for Dry Ingredients
Baking powder. Mix one part baking soda with two parts cream of tartar. If you plan to store it for an extended period, add one part cornstarch to keep it dry.
Brown sugar. Mix one cup of white sugar with one tablespoon of unsulfured molasses with a stand or hand mixer.
Confectioner's sugar. Mix 1/2 cup white sugar + 1 teaspoon corn or tapioca starch in a food processor or high-powered blender for 5-10 minutes until the sugar is pulverized to the consistency of powdered sugar.
Pumpkin pie spice. Combine ground cinnamon, ginger, nutmeg, allspice, and cloves. (If you're missing one or two, it's no big deal)
Cake flour. Measure one cup of all-purpose flour and subtract 2 Tbsp; add 2 Tbsp of cornstarch. Sift together five times.
Self-rising flour. Add ¼ tsp salt and 1 ¼ tsp baking powder to one cup of all-purpose flour to make one cup of self-rising flour. Whisk ingredients together five times.
Rice. Replace with orzo, barley, farro, bulgur, or seeds such as quinoa. Adjust cooking time and liquid as necessary.
If you have any questions about home insurance or your current insurance policy, or if you would like a free insurance review, please call us at 877-576-5200.