Vacationing During the Pandemic? Follow These Best Practices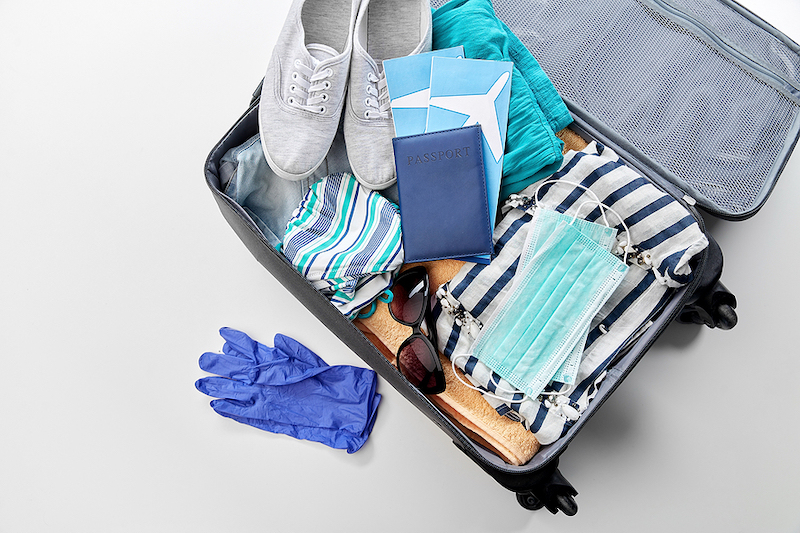 Planning a trip? Wondering if it's safe to travel these days? The Centers for Disease Control and Prevention points out that staying home is the safest option to avoid COVID-19. If you already have a trip planned, or are thinking about it, these tips can help.
Lodging in the Pandemic
Many hotels and properties rented by owners have added new cleaning protocols. If in doubt about any of the places you plan to stay, research before you go. Be aware that some have also added fees to pay for that extra cleaning.
In some parts of the country, public gathering spaces—such as hotel pools and exercise rooms—may be closed or limited in capacity. Again, if you are thinking of vacationing during the pandemic, research before you go, and be aware that situations can change often to avoid disappointment.
Pandemic Safety on Buses and Trains
Transportation companies have implemented extra cleaning, but the reality is that social distancing is difficult or impossible to maintain. Most require masks; some ask passengers to self-certify that they have no COVID-19 symptoms. If possible, choose less crowded routes or travel times to minimize contact with other passengers.
Restaurants
Whether restaurants are closed, open for carryout and delivery, or have outdoor or limited indoor seating varies widely by state and city. Some hotels have also closed their restaurants and only offer room service. Research areas you'll be visiting before your vacation; laws and guidelines change regularly. One big change you'll see often: Many buffets/all-you-can-eat restaurants are closed.
Regardless of the current rules in any area, think about your own comfort level. Maskless, indoor dining is legal in many areas. It's up to you whether to dine that way or not.
Rental Vehicles
The major rental car companies have instituted new cleaning regimens, and many offer contactless pickup and drop-off. If in doubt, clean high-touch areas with disinfectant wipes before entering the vehicle.
If the drop-off is contactless, protect yourself by photographing the interior and exterior of the vehicle when you drop it off. You don't want to receive a surprise charge weeks later for damage you allegedly caused.
Air Travel – Before and After October 1
Is it safe to fly right now? What about after October 1, when airlines are allowed to cut staff or reduce pay, under the terms of the federal bailout?
If you are planning a vacation that involves air travel before October 1, health experts discourage nonessential travel. If you must travel, use carry-on luggage to minimize your contact with others, and stock your carry-on with disinfectants and personal protection equipment (PPE).
Wear a mask in the airport and on the plane, and avoid touching surfaces if possible. Health experts also recommend cleaning your seat and the surrounding area with a disinfectant wipe before siting down. Wipe down everything, including the armrests, tray table and the buttons on the entertainment system.
If possible, avoid eating or drinking on the plane. If you do eat or drink, wash or sanitize your hands before and after.
Travel experts and the airlines themselves say flights may be canceled after October 1. United Airlines has already announced it plans to cut its staff by up to 45%, and American Airlines, Delta, Alaska Airlines and JetBlue have also said they plan staff cuts.
Although federal law requires refunds for canceled flights, numerous stories abound of airlines dragging their feet or offering travel vouchers rather than refunds. Buying a ticket now for future vacation or holiday travel may net you a great price, but be prepared for disruption.
To protect yourself, reconsider buying tickets for flights after October 1, no matter how temptingly low the prices may be. If you have tickets for future travel, periodically check the airline's website to see if your flight has been rescheduled or canceled.
Travel Insurance
If you are thinking of vacation during the pandemic, travel insurance protects you in two ways:
Refunds/reimbursement if your trip is canceled or you're unable to travel
Coverage for medical expenses and possible evacuation if you become sick or injured while traveling
Your existing healthcare coverage may offer some coverage while traveling. Travel experts highly recommend checking your own insurance before traveling on vacation. Be aware that many travel insurance policies specifically include expenses related to the coronavirus, so read the policy carefully before you buy.
Often, the company selling you the trip will also offer insurance. Be aware that you do not have to buy that company's insurance; many third parties that offer insurance as well, and one of those products may be better suited to your needs. Do your due diligence.
Post-Travel Considerations: Quarantine
Depending upon where you travel, you may be required to quarantine while there or when you return from vacation.
New York requires residents to quarantine for 14 days if they've visited a state that either:
Has a positive test rate higher than 10 per 100,000 residents over a seven-day rolling average
Has a testing positivity rate of higher than 10% over a seven-day rolling average
An updated version of that list is available here. Residents can be liable for fines up to $2,000 for disobeying the order.
New Jersey has a similar list; self-quarantining is voluntary but encouraged and expected. Connecticut also has a list and quarantining is mandatory.
Protect Yourself Financially
One way to help protect yourself if vacationing during the pandemic is to always pay for travel with a credit card, not a debit card, check or cash. Credit cards offer a level of protection, including chargebacks, that other forms of payment don't.
Many credit cards also offer additional travel insurance perks, such as insurance that covers rental vehicles. Check your credit card agreement or ask the issuer before you buy.
If you have any questions about insurance or your current homeowners insurance policy, or if you would like a free insurance review, please call us at 877-576-5200.