Wrecking Ball Blues: Adjoining Property Owners' Rights During NYC Construction
The following article is a guest post by Janet Nina Esagoff, Esq.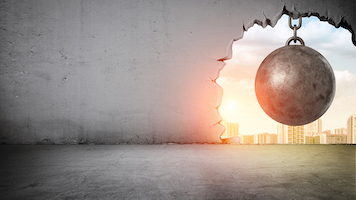 As a real estate attorney with a busy litigation and transactional practice, I know one thing for sure: the New York City real estate sector continues to be hot. Construction is rampant in the New York metropolitan area, with knock-downs and new development everywhere, along with "basic" rehabilitation of older structures. At most real estate closings, buyer and seller are both smiling. In most courtrooms, where that same real estate is being litigated, smiles are few and far between. But what are are adjoining property owners' rights during construction?
The process often begins when the builder sends a letter, giving notification of demolition, new development or construction work to be performed. This is usually done by registered mail, which is required by the Department of Buildings (DOB). Thoughtful developers give six weeks' notice or more to neighboring households. Others may wait until the week before the wrecking ball—or, in some cases, never.
Shortcuts and shoddy construction practices are regular in the industry, as contractors hustle to meet project deadlines and cut costs. This results in bad outcomes for the owner and, quite possibly, his neighbor. Indeed, even when construction is done right, things can go wrong. Up go the shiny new buildings and beautiful façades; down go neighbor satisfaction and tolerance when safety, noise and other issues inadvertently are experienced.
All property owners have inalienable rights to "quietly" enjoy their property. This includes non- interference from outsiders and damages caused by pesky renovation-happy neighbors. Once construction begins, typical issues that may ensue range from mere inconvenience—like sidewalk detours, excessive construction dust and debris—to intermittent noise nuisance after reasonable hours of the day (7:00 a.m. to 6:00 p.m., Monday to Friday).
Some issues are more devastating and permanent, like the all-too-common blocking of vistas by a new development. At the more hazardous end of the spectrum lies an endless list of possibilities: work being performed without permit, weakened foundations due to improper or excessive digging, fires, and even life-threatening accidents and hazards. Unfortunately, actual suffering and controlled chaos may ensue and invade your once-quiet neighborhood.
Inform Thyself
The DOB offers resources for neighbors concerned about construction, where you can enter an address and get information about jobs that have been filed, a record of any complaints or violations, and whether they have been resolved. Visit the DOB website for more information.
What is an aggrieved property owner to do? Once it is clear that your property rights are being compromised, it is best to complain to DOB's 311 hotline to notify authorities about offensive activities. To get any relief, you must get on the DOB radar, who can send an inspector out to assess the situation, warn builders, and/or issue a violation, fines or stop work order.
Another way to be more proactive is to attend community board meetings to voice your concerns and find out more about the development next door. You can share information with your neighbors and devise strategies to monitor and manage the ongoing construction.
Stake Your Claim
Another way to benefit from a nuisance situation may be to cash out. An access and indemnification agreement can be negotiated, which can yield thousands in fast money, as well as valuable protections to an adjacent property owner of a construction site. Furthermore, claims of intolerable noise, dust and debris, or other property damage—preferably well documented—can form a strong basis for a lawsuit. Even an aggrieved tenant can pursue a constructive eviction claim for damages and create leverage to break an unfavorable lease or to negotiate favorable rent abatement while the nuisance continues.
To preserve your rights, as with any potential dispute, it is well advised to start a paper trail. Document the construction activities. Keep a log. Take photos. Save text conversations with the construction manager or owner. You'll want to keep track of any damages, equipment and procedures used at the nearby construction site, even a seismograph to monitor vibrations, if your noise and vibration claims are extensive.
It might also be advisable to hire an engineer to inspect your house or building to determine its condition prior to your neighbor's construction, to ascertain actual conditions at your property. These proofs will come in handy in the event you need to make your case in court or settle with the owner when asking for a monetary concession.
Lawyer Up to Protect Your Rights
The good news is that there are laws in place to protect adjacent property owners, requiring contractors to carry insurance for damage caused by construction, demolition and excavation. Such damage may include vibration-related damage from neighboring construction, in the form of cracks on concrete patios, slab floors, door or window frames. Excavation that destroys property or impacts the structural integrity of your house or building is, unfortunately, quite common—and actionable.
The New York City construction code also has restrictions on the hours during which construction work can proceed, tolerable sound levels and, how dust should be contained. DOB bylaws detail proper practices like shoring, underpinning, putting up a sidewalk shed, waterproofing when necessary, working during normal hours during the day, and overall, being a good neighbor.
In sum, it is advisable to keep lines of communication open with the adjoining owner and builder, so that concerns can be shared. So, be neighborly, and talk with your renovating neighbor. Document actual conditions of your home and the adjacent site before, during and after construction. If things go awry, get proactive by reporting issues to DOB and attending community meetings. Lawyer up and get an agreement in place that addresses access and potential consequences of the construction. If all goes sour and there is actual irreparable harm, the courts are your best last resort.
Good luck!
Janet Nina Esagoff is a Great Neck attorney and president of the Esagoff Law Group, P.C. Her practice focuses on helping individuals and businesses in civil litigation, contract law and real estate matters, including landlord-tenant law.