Reduced Residential Building Insurance Rates for the Greater New York City Area
Building owners throughout the greater New York City area (New York, New Jersey and Connecticut) are saving money with the City Building Owners Insurance Program. This residential building insurance program serves owners of buildings with fewer than 50 units, including brownstones, multi-family buildings, apartment buildings, and co-op and condominium buildings. We also serve the association boards that manage these properties.
Compare us to your current policy
City Building Owners Insurance delivers the best coverage at the lowest premium. We make sure you get the best residential building insurance coverage at the absolute best rate. You need someone who will work on your behalf to put those savings in your pocket… We are that someone.
All our policies come with $1 million liability coverage protection… Does yours?
All our policies also come with $250,000 backup of sewer and drains, ordinance or law coverage, and water damage legal liability.
We review your insurance needs and risk profile, and design a policy specifically tailored for you and your building.
We also make house calls. We come to you and handle all the paperwork for you.
City Building Owners Insurance Program
You're not just getting a free quote; you'll also get free risk management and cost control analysis. We'll even review your existing coverage at no cost.
Every building, every owner… every residential building insurance policy is different
Even two identical brick homes, side by side, may need different insurance. Only you can balance the coverage, costs and risks to find the best combination, and our job is to help you make a well-informed decision. Here's how we make sure you get the exact coverage you need:
Consult with you and research your building's history and other details to identify your needs
Educate you about all of your options
Manage the application and inspection process
Make all arrangements with lenders and former insurance companies
Provide ongoing support and answers
Periodically review your coverage to ensure you're getting the right insurance at the best price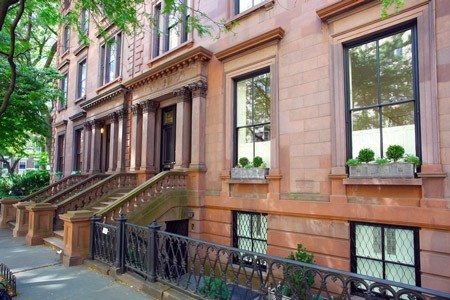 Owners of New York area apartment buildings lower their premiums with custom policies.
The best insurance coverage. The service you deserve.
Along with the best coverage at the absolute lowest cost,  you can expect:
An up-to-date risk profile that includes all safety-related improvements
Review of your building valuations on a regular basis
Help in understanding insurance jargon, like co-insurance, actual cash value and replacement cost
Help with reviewing your current rent rolls to manage your loss of rents exposure
Help with pinpointing high-risk areas and identifying your needs to make sure your insurance policy stays current
Customer service levels to rave about. Check out the customer testimonials!
Nobody Beats Our Rates
We are building owner advocates. We make sure you understand your responsibilities and we understand your needs. We'll explain every aspect of your residential building insurance so you're not under- or over-insured.
"Stu actually came to the house. He felt we were underinsured. Despite bringing all the coverages up to a better level, we still ended up with a big savings on our premium."
"The bigger insurance companies will ship the policy out, but Stu works with people like me. He delves deeper, and we figure out the best way to go. We saved between 10 and 40%, depending on the building."
For the fact that I met him personally; I never met any of these other brokers I've been doing business with in real estate. That's the biggest difference, I guess, the personal service that he normally gives."