Enjoy the Outdoors with These Summer Safety Tips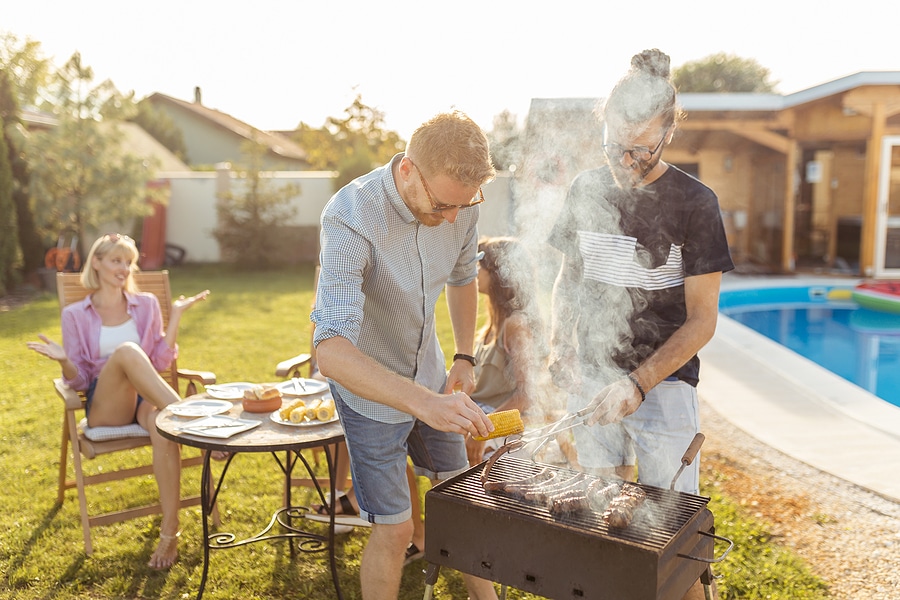 With kids out of school and sunshine (usually) in abundance, the summer months are the perfect time to get outside. Sometimes, these activities involve travel—to a beach or pool or some other vacation destination—but often, memories are created in the comfort of our backyards. Spending more time outdoors also increases the potential for accidents, especially when hosting guests. With just a bit of planning, however, you can keep your family and friends safe to keep those summer experiences happy ones.
Check out these summer safety tips for outdoor activities.
Remove Access to 'Attractive Nuisances'
"Attractive nuisances" describe those home or yard features that can be dangerous to children who don't understand how hazardous they can be.
Especially for small children, these objects or areas look fun, but interacting with them could have dangerous consequences. Homeowners need to take special care to secure such features and prevent accidental injuries.
Examples of attractive nuisances include:
Swimming pools
Construction areas
Hot tubs
Water features (like fountains or ponds)
Playgrounds (and equipment like swing sets and tire swings)
Trampolines
Treehouses
Ladders
Lawn mowers
Broken-down or abandoned vehicles
Scaffolding
To secure an attractive nuisance, make it inaccessible or difficult to access for children. For example, you can add a self-closing gate around your pool, remove construction equipment when not in use, block off a project site, fence in your trampoline, move abandoned vehicles, etc.
If you have an attractive nuisance that you can't remove (i.e., a swimming pool), talk to your insurance broker. These risk management experts can help you make sure you have the right protection, as well as provide recommendations for discouraging uninvited guests.
Follow Safety Rules Around Grills and Fire Pits
Grilling is a time-honored summer tradition, and hanging out by fire pits has become popular in recent years. To keep family members and guests safe around an open flame or fuel source, establish safety rules ahead of time.
Follow these general outdoor fire safety rules:
Keep your grill or fire pit at least 10 feet away from any structure, including your home
Position the grill or fire pit in a well-ventilated area
Never leave an operational grill or fire pit unattended
Find more tips in our articles on fire pit safety and barbecue grill safety.
While homeowner insurance policies typically cover injuries and property damage, it's always better to prevent accidents in the first place.
Clear Away Clutter and Monitor Pet Interactions
The high energy of many outdoor activities can make it tough to keep track of everyone, including furry household members. Again, prevention should be a top priority. Look for any tools and toys lying around, and put them away. Block off or call attention to potential hazards, such as slick or uneven spots near the pool.
Monitor interactions with dogs. If your pets are anxious around other people, consider keeping them inside and away from guests during social gatherings. Negative pet interactions can be traumatic, and the medical expenses for dog bites and related injuries can be high. Take steps to prevent potential accidents and keep your property as safe as possible.
Manage and Clean Up Storm Damage
Because summer storms can be severe, storm damage and debris can change the way visitors experience your home. It's true that you can't control the weather, but you can prevent the aftermath from injuring your family and guests.
Protect your home from the elements and keep your outdoor living areas safe by following these tips:
Pick up branches and other debris so that adults and children can walk around safely
Assess your roof to make sure the shingles aren't cracked or crumbling
Clean your gutters and look for signs that they overflow during thunderstorms (This is a common cause of water damage, mold and mildew growth, pest infestation, drainage and foundation issues, and siding damage).
Trim tall trees and shrubs
Remove tree branches that overhang your home, parking area and outdoor living spaces
free insurance review, please call us at 877-576-5200 or leave a comment below.