Landlord Liability Insurance: What NYC Landlords Need to Know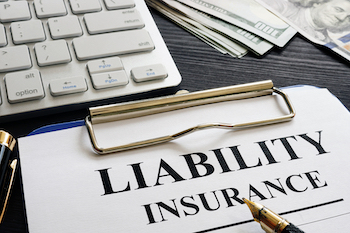 As a landlord, you're often liable for many incidents and conditions beyond your control.
Mother Nature drops a foot of snow, and someone slips and falls on the sidewalk outside your building. Tree roots push up part of the sidewalk, and the uneven concrete sends someone flying. A tenant's dog bites a delivery driver.
You didn't dump the snow. You weren't walking the dog. But you could still be financially and legally liable.
You could also be financially and legally liable if a tenant trips on flooring that was installed incorrectly or some other unsafe condition exists in your building.
This post shouldn't be considered legal advice, but in general, there are five factors that can shift liability to the landlord.
Landlord liability: 5 questions
Many liability claims rest on the following five questions:
Did the landlord have a duty to maintain the premises or situation where the accident or incident occurred?
Was the landlord aware, or should the landlord have been aware, of the potentially dangerous/hazardous condition(s)?
Did the landlord fix the problem/remedy the situation in a timely manner?
Was the landlord's failure to act in a timely matter a direct cause of the accident/incident/injury?
Did someone suffer damages as a result of the incident/accident?
Consider these two common sources of liability claims here in the New York City area: dog bites and sidewalk maintenance.
Dog bites and landlord liability
If the landlord knows that a tenant has a dog, and that dog has previously displayed aggressive behavior or tenants/visitors have complained about the dog, the landlord may be liable if the dog bites someone. Even if the tenant has liability insurance, the person who was bit can pursue a legal claim against the landlord as well, as we've written about previously.
In some cases, landlords can even be held liable if the dog bite doesn't occur on the property.
Sidewalk maintenance and landlord liability
New York City laws say the landlord is responsible for keeping sidewalks in good repair, and that responsibility cannot be delegated to someone else. Here's what good repair means.
The laws also say that the landlord is responsible for clearing snow and ice in a timely fashion from sidewalks. If the snow stops between 7:00 a.m. and 4:59 p.m., it must be cleared within four hours. If it stops between 5:00 p.m. and 8:59 p.m., it must be cleared within 14 hours. If it stops between 9:00 p.m. and 6:59 a.m., it must be cleared by 11:00 a.m. the next day.
If the landlord is out of town and can't travel to the building, or the snow removal company doesn't show up, that's no excuse. The landlord will still be liable.
How much liability insurance do I need?
The amount of liability insurance on a building generally depends on several factors:
The value of the building
The amount of any mortgages or liens on the building
The landlord's net worth
In most situations, $1 million or more in liability coverage is recommended, and an umbrella policy that offers additional, broad coverage is highly recommended.
A knowledgeable insurance broker/agent can help determine how much liability coverage makes sense. A good partner will also review other factors, such as deductibles, to help you get the right insurance coverage, while managing the cost of premiums.
If you have any questions about insurance or your current insurance policy, or would like a free landlord insurance review, please call us at 877-576-5200.