NYC Recycling Programs for Apartment Buildings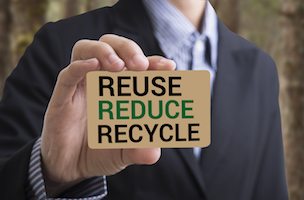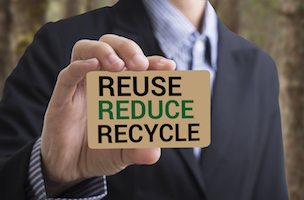 To support New York City's goal of contributing zero waste to landfills by 2030, the Department of Sanitation (DSNY) has expanded recycling programs for electronics, textiles and organic waste. In fact, DSNY recently reported two major milestones:
e-cycleNYC has collected 10 million pounds of discarded electronics.
re-fashioNYC has collected 10 million pounds of used clothing and linens.
Owners of buildings with 10 or more units can register online for both of these free programs.
e-cycleNYC
Electronics—including televisions, computers and mobile devices—are the largest source of hazardous waste in landfills. In January 2015, New York City banned residents from disposing of electronic devices in the trash. The city's solution was to partner with Electronic Recyclers International (ERI) to offer e-cycleNYC, which collects and recycles electronics using the strictest industry and environmental standards available.
The program accepts the following items, both working and non-working:
Televisions
VCRs, DVRs and DVD players
Cable and satellite consoles
Video game consoles
Computers and accessories (e.g., keyboards, mice, track pads, etc.)
Printers, scanners, fax machines
Small electronics: cell phones, MP3 players, tablets, e-readers
e-cycleNYC does not accept appliances, batteries or light bulbs.
How It Works
Buildings with 10 or more units store electronics in a secure, enclosed area. Owners request service by calling or emailing DSNY, which guarantees pickup within five business days.
re-fashioNYC
New Yorkers dispose of approximately 200,000 tons of clothing, towels, curtains, handbags, and other textiles every year. A partnership between DSNY and Housing Works, re-fashioNYC is a non-profit, in-building service to make clothing donation easy and convenient.
The program accepts the following items, regardless of condition:
Clothing (for men, women and children)
Accessories: hats, belts, shoes, scarves, purses, etc.
Towels, curtains, bedding and linens
Clean rags and clothing scraps
All donated items are sorted by Housing Works in Queens, with proceeds supporting the organization's mission to end the dual crises of homelessness and AIDS. No donations are sent to landfills.
How It Works
DSNY will meet with building owners (10+ units) to discuss number, size and placement of donation bins, which are available in two sizes. When full, owners request service from DSNY, which guarantees pickup within five business days.
Tax receipts (for up to $250) are available.
NYC Organics
Almost one-third of the waste collected by DSNY consists of organics or organic waste (e.g., food scraps, spoiled food, food-soiled paper, yard trimmings, etc.). As this material decomposes, it releases methane gas, a greenhouse gas that's six times more damaging to the atmosphere than carbon dioxide. NYC Organics collects these items for composting, reducing waste and enriching the city's soil.
DSNY is expanding the organics recycling program to serve all New Yorkers by the end of 2018.
How It Works
As the program expands, most residents in buildings with 1-9 units will automatically be enrolled. (Download this list and map of neighborhoods served.) However, 1-9 unit buildings in Manhattan and certain Bronx neighborhoods will not be eligible for curbside organics collection.
The DSNY website offers information on other ways to compost food scraps, as well as guidance on recycling organic waste.