NYC electronics recycling: Do you qualify for e-cycleNYC?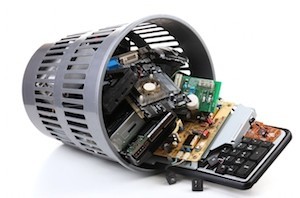 Electronic devices represent the largest, fastest-growing component of hazardous waste sent to landfills. As of January 2015, New York City prohibits residents from disposing of electronics in the trash.
But finally, there is a solution for some building owners facing the challenges of NYC electronics recycling. For building owners with 10 or more units, the NYC Department of Sanitation (DSNY) and Electronic Recycles International (ERI) offers e-cycleNYC.
With this free and convenient service, electronics are recycled domestically using the strictest available industry and environmental standards. Data on electronics will be erased as part of the recycling process.
e-cycleNYC accepts the following working and non-working items:
TVs
VCRs, DVRs and DVD players
Cable and satellite boxes
Video game consoles
Computers: including small servers, monitors, laptops and peripherals (e.g., keyboards, hard drives, mice, etc.)
Printers/scanners
Fax machines
Small electronics: including tablets, mobile phones, MP3 players
Appliances, batteries and light bulbs are NOT accepted.
DSNY will visit your building to discuss how e-cycleNYC will work best in your building. The program offers three service options, depending on building size and type:
Room clean-outs for buildings with 10 or more units. Buildings store electronics in a secure, enclosed area before pick-up.
Storage bins for buildings with 50 or more units. Buildings store electronics in a locked bin provided by e-cycleNYC. Two sizes are available.
Outdoor electronics recycling events for buildings with 250 or more units. Buildings work with e-cycleNYC to schedule outdoor electronics recycling events for building residents.
For more information or to enroll in e-cycleNYC, visit the NYC Department of Sanitation.
If you have any questions about insurance or your current insurance policy, or if you would like a free insurance review, please call us at 877-576-5200.