Throwback Thursday: Quality Service Is the Secret to Success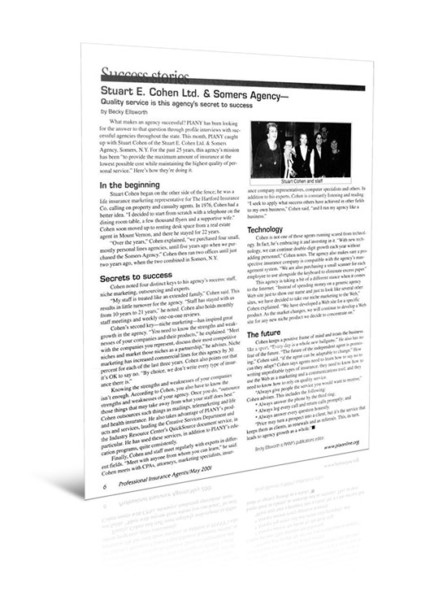 Some things (like the importance of quality service) never change… and that's a good thing. We came across an article written 19 years ago featuring our agency's dedication to quality service. All of our "Secrets to Success" still ring true, and our clients are certainly happy for our expertise and longevity.
The article mentioned several keys to which the Somers Agency (including City Building Owners Insurance Program) can attribute its success. The first of which, Stu Cohen, founder of the City Building Owners Insurance Program, is quoted as saying, "You need to know the strengths and weaknesses of your companies and their products… By choice, we don't write every type of insurance there is." This is a surefire way to tell if your agent or broker knows his field. Stu focuses on a few areas of expertise so he can confidently offer his clients the best options for protection.
While the basics, such as "always give people the service you would want to receive," never change, he strives to stay up-to-date with the shifting insurance industry. (Interestingly, the landscape described in this article bears a striking resemblance to today's insurance world.)
The following article was originally published in Professional Insurance Agents/May 2001 – Success Stories.
Stuart. E Cohen Ltd. & Somers Agency—Quality service is this agency's secret to success
By Becky Ellsworth
What makes an agency successful? PIANY has been looking for the answer to that question through profile interviews with successful agencies throughout the state. This month, PIANY caught up with Stuart Cohen of the Stuart E. Cohen Ltd. & Somers Agency, Somers, N.Y. For the past 25 years, this agency's mission has been "to provide the maximum amount of insurance at the lowest possible cost while maintaining the highest quality of personal service." Here's how they're doing it.
In the beginning
Stuart Cohen began on the other side of the fence; he was a life insurance marketing representative for The Hartford Insurance Co. calling on property and casualty agents. In 1976, Cohen had a better idea. "I decided to start from scratch with a telephone on the dining room table, a few thousand flyers and a supportive wife." Cohen soon moved up to renting desk space from a real estate agent in Mount Vernon, and there he stayed for 22 years.
"Over the years," Cohen explained, "we purchased four small, mostly personal lines agencies, until five years ago when we purchased the Somers Agency." Cohen then ran two offices until just two years ago, when the two combined in Somers, N.Y.
Secrets to success
Cohen noted four distinct keys to his agency's success: staff, niche marketing, outsourcing and experts.
"My staff is treated like an extended family," Cohen said. This results in littler turnover for the agency. "Staff has stayed with us from 10 years to 21 years," he noted. Cohen also holds monthly staff meetings and weekly one-on-one reviews.
Cohen's second key—niche marketing—has inspired great growth in the agency. "You need to know the strengths and weaknesses of your companies and their products," he explained. "Meet with the companies you represent, discuss their most competitive niches and market those niches as a partnership," he advises. Niche marketing has increased commercial lines for this agency by 30 percent for each of the last three years. Cohen also points out that it's OK to say no. "By choice, we don't write every type of insurance there is."
Knowing the strengths and weaknesses of your companies isn't enough. According to Cohen, you also have to know the strengths and weaknesses of your agency. Once you do, "outsource those things that may take away from what your staff does best." Cohen outsources such things as mailings, telemarketing and life and health insurance. He also takes advantage of PIANY's products and services, lauding the Creative Services Department and the Industry Resource Center's QuickSource document service in particular. He has used these services, in addition to PIANY's education programs, quite consistently.
Finally, Cohen and staff meet regularly with experts in different fields. "Meet with anyone from whom you can learn," he said. Cohen meets with CPAs, attorneys, marketing specialists, insurance company representatives, computer specialists and others. In addition to his experts, Cohen is constantly listening and reading. "I seek to apply what success others have achieved in other fields to my own business," Cohen said, "and I run my agency like a business."
Technology
Cohen is not one of those agents running scared from technology. In fact, he's embracing it and investing in it. "With new technology, we can continue double-digit growth each year without adding personnel," Cohen notes. The agency also makes sure a prospective insurance company is compatible with the agency's management system. "We are also purchasing a small scanner for each employee to use alongside the keyboard to eliminate excess paper."
This agency is taking a bit of a different stance when it comes to the Internet. "Instead of spending money on a generic agency Web site just to show our name and just to look like several other sites, we have decided to take our niche marketing to the Web," Cohen explained. "We have developed a Web site for a specific product. As the market changes, we will continue to develop a Web site for any new niche product we decide to concentrate on."
The future
Cohen keeps a positive frame of mind and treats the business like a sport, "Every day is a whole new ballgame." He also has no fear of the future. "The future of the independent agent is promising," Cohen said, "if the agent can be adaptable to change." How can they adapt? Cohen says agents need to learn how to say no to writing unprofitable types of insurance; they need to know how to use the Web as a marketing and communications tool; and they need to know how to rely on quality service.
"Always give people the service you would want to receive." Cohen advises. This includes the following:
Always answer the phone by the third ring;
Always log every call and return calls promptly; and
Always answer every question honestly.
"Price may turn a prospect into a client, but it's the service that keeps them as clients, as renewals and as referrals. This, in turn, leads to agency growth as a whole."
Becky Ellsworth is PIANY's publications editor.