A Homeowner's Guide to Water Heater Safety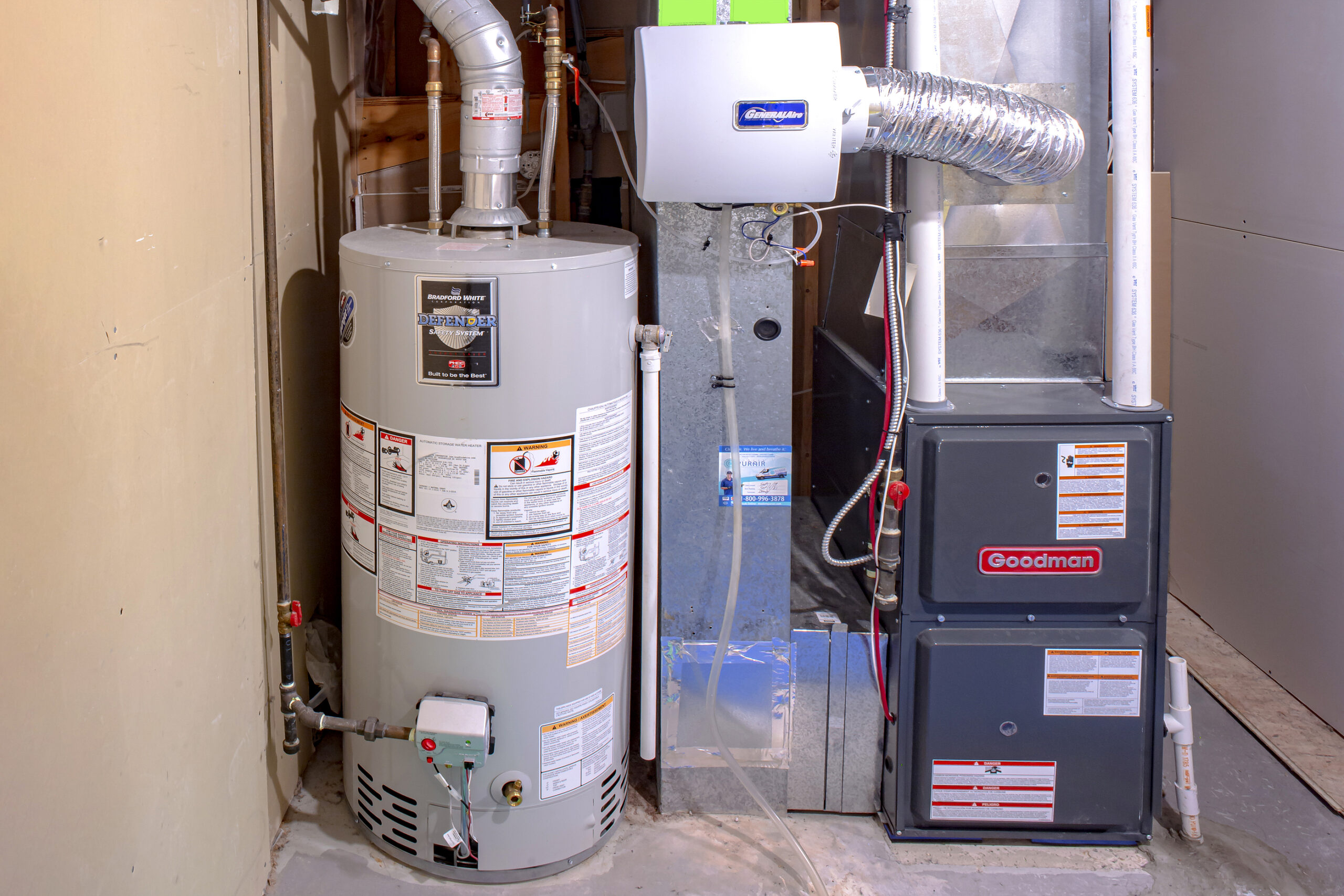 Water heaters are often forgotten as they sit in a utility closet, basement or garage until they break down and leave residents without hot water. Neglecting a water heater in this way can lead to potentially dangerous and unsafe conditions, including indoor flooding.
Ensuring that your water heater remains safe to use requires only a few hours of maintenance every 6 to 12 months, most of which can be handled by a licensed plumber during a routine maintenance visit.
Follow these hot water heater safety and maintenance tips between appointments to prevent accidents and emergency repairs.
Hot Water Heater Safety & Maintenance Tips 
The following tips apply to all water heater types, including gas- and electric-powered tanks, tankless, and heat pump (hybrid) water heaters.  
Set the temperature to around 120° F. Lower temperatures might fail to kill germs, and higher temperatures could scald children. (NOTE: If you find yourself increasing the water temperature often, there could be a problem with your fuel source, or your water heater may have a sediment buildup. Schedule a hot water heater repair appointment with a professional.)
Keep the area around your water heater clear. Your water heater manufacturer should list the minimum clearance requirements for your unit in the owner's manual. Generally, it's a good idea to keep at least 18 inches of space around the water heater clear of all materials, especially flammable ones like rags and paper products.
Warn children that the empty space surrounding the water heater is a no-play area. You can discourage small children from playing around the unit by installing a child-safety lock on the nearest access door.
Conduct a visual inspection every few months. Look for cracks or corrosion. Take note if you feel heat radiating from the tank. If you have a tankless water heater, check the piping below the unit for signs of corrosion. The tank, piping, tubing or hardware should be rust-free, and the exterior of the equipment should be slightly above room temperature.
Flush your water heater at least once a year. Tank and tankless water heaters need to be flushed to rinse out calcium and magnesium buildups. New York City tap water is soft to moderately hard, which means it can have a high mineral content. These minerals cause water heater tanks to corrode and, eventually, explode if the pressure gets too high. Flushing your water heater each year clears out any mineral buildup.
Test the pressure relief valve. Place a bucket under the pressure relief valve, stand at a safe distance, and pull up on the drain valve. Water should flow freely and stop flowing when you let go. If it doesn't, the valve needs to be replaced. Be careful—the water may be very hot.
Install a water detection device near the water heater. This monitor will alert you to leaks before they can cause significant water damage.
Safety Tips for Specific Water Heater Types
Review these additional safety tips for your water heater type, as applicable. 
Standard Tank & Heat Pump Water Heaters
Inspect the sacrificial anode rod every year. The anode rod prevents the interior of the tank from rusting away. You or a certified plumber will need to check it for corrosion or mineral buildup and replace it as needed. (NOTE: Water heater warranties for newer models often require that a certified plumber inspect and replace the anode rod.)
Clean the condensate drains. Condensate lines can get clogged with algae, mildew or mold. Pouring a cup of bleach in the access opening clears most clogs. ·
Wash the air filter (heat pump water heaters only). A clogged air filter reduces the system's efficiency and lifespan. To clean the filter, turn off the water heater and follow the manufacturer's instructions in the owner's manual. Make sure the filter is completely dry before re-inserting it.
Tankless Water Heaters
Scan the area underneath water heater for leaks. Leaks are uncommon in tankless water heaters. Water pooling under a unit indicates a serious problem that requires immediate attention from a qualified plumber.
Insulate exposed piping. The pipes leading to a tankless water heater and the unit itself can freeze very quickly during a power outage. Ensure that all surrounding pipes are well-insulated and that your unit's built-in freeze protection works properly.
Gas-Powered Water Heaters
Install a carbon monoxide detector near the system. You'll be notified of a gas leak immediately so you can call emergency services. Test the detector every year to ensure that it's working.
homeowners insurance or your current insurance policy, or if you would like a free insurance review, please call us at 877-576-5200.