Homeowner Spring Safety Tips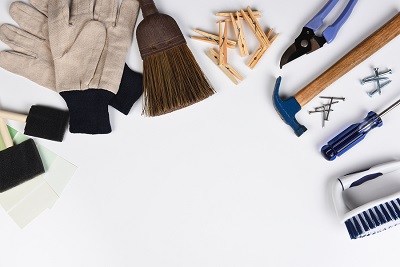 Here in the Northeast—particularly in the New York City area—the arrival of spring has gotten lost in the ever-evolving coronavirus pandemic. The combination of warmer weather and executive orders to stay home makes now the perfect time to make a few safety checks in and around your home. Plus, getting outside is a great tonic for cabin fever. We hope you find this list of homeowner spring safety tips useful.
Outdoor Spring Safety
Tools. Spending more time at home offers extra incentive to keep up the lawn care maintenance routine. Be sure to inspect lawn and power tool cords for any cracks or frayed wires. If you notice anything concerning, have the cables repaired or replace the tool.
Protective Gear. Wear protective clothing and eye protection when working with lawn equipment, weed killer, fertilizer and other chemicals. When you're finished with yard work, be sure to store all sharp tools, gasoline and fertilizers in a safe place where children and pets can't gain access.
Intruders. Take the time to trim shrubs and other landscaping away from windows to help defend against potential intruders. If you don't yet have them, consider installing motion detector lighting and cameras for your property.
Address. Address numbers should be visible from the street in case emergency responders need to find your home.
Leaves and Debris. Clean debris from gutters, walkways, and outdoor stairwells to prevent flooding, rotting and leaks.
Indoor Spring Safety
Detectors. Spring is a great time to check the batteries and connections for your smoke alarms and carbon monoxide detectors. Always use the test button to make sure the sensor works, but it's still an excellent time to change out the battery. Also, take a moment to review New York City's new fire safety laws related to smoke alarms and smoke detectors.
Security Systems. Check security system connections, including window sensors and motion detectors, to make sure they are still in working order and free of any blockages. If you don't yet have them, install water leak sensors in your basement or near your water heater. Many sensors are compatible with security systems.
Kitchen Fires. During your spring cleaning routine, be sure to degrease kitchen appliances and stove hoods and inspect all appliance power cords to help avoid kitchen fires. Here are 12 tips to avoid kitchen fires (and what to do if one occurs).
Virus protection. The best way to prevent contracting a virus, including the coronavirus (COVID-19), is to limit your exposure. In addition to washing your hands often, keep all surfaces clean. Use wipes to disinfect frequently touched surfaces like handles, pens, phones, appliance buttons, doorknobs, keyboards, remote controls and light switches. For detailed, up-to-date information on the Coronavirus disease, visit the Centers for Disease Control and Prevention (CDC).
Fire Extinguishers and Safety Plans
Be sure to familiarize yourself with your extinguisher. It's something we (hopefully) don't often use, so make sure you know how to use it.
Fire extinguishers can last up to 15 years, but they still expire. Look for the expiration date or check the pressure valve to make sure it's still in the green. Test, service or replace your fire extinguishers if:
The product has been used.
The hose or handle is broken, cracked or otherwise compromised.
The locking pin is missing.
The pressure valve needle falls in any area other than green.
If you live in a building, make sure you're familiar with the evacuation and fire safety plans. Building owners are required to post the fire safety plan inside each apartment, as well as the common area.
The National Fire Protection Association (NFPA) offers additional public safety tips and resources on fire extinguishers and fire safety.
Be Prepared
Preparation is much easier than recovering from avoidable accidents. These homeowner spring safety tips are a great place to start preparing your home for brighter days ahead.
See other spring property checklist items on this property maintenance guide.
If you have any questions about insurance or your current insurance policy, or would like a free insurance review, please call us at 877-576-5200.