How to Protect Yourself from Porch Pirates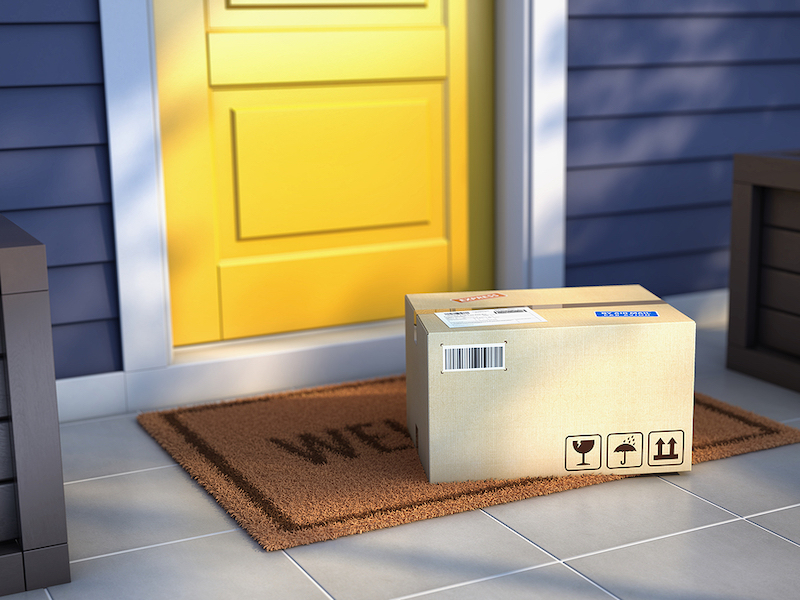 The fanciful name hides an ever-growing crime. Porch pirates are stealing an increasing number of packages from, well, porches, stoops, vestibules, lobbies and doorsteps.
In New York City alone, according to the New York Times, 90,000 packages are stolen daily, up 20% from four years ago. A study by the Rensselaer Polytechnic Institute Center of Excellence for Sustainable Urban Freight Systems says thieves grab 1.7 million packages in America every day.
Other surveys show that between 30-40% of Americans have had at least one package stolen, and many have been victimized more than once.
Opportunities for porch pirates have only expanded during the COVID-19 pandemic. Quarterly figures from the U.S. Department of Commerce revealed a 31.8% increase in online shopping over the first quarter of 2020.
With the holiday shopping season gearing up, those numbers are likely to rise. Here are some tips on how to avoid becoming a porch pirate victim. 
They steal what they see
Research published in Criminal Justice Studies confirmed what authorities expected: the easier it is to steal a package, the more likely a porch pirate will strike.
For thefts from private doorsteps, the distance from the street to the door made a significant difference in whether a package was likely to be stolen. Visibility mattered as well.
A package that shows the product or manufacturer that's close to the street and easily visible is a tempting target. The takeaway is to camouflage packages with plants or other items that block the view from the street.
There are lots of other ways to protect your deliveries against porch pirates, and many are free or low cost.
Many ways to guard against porch pirates
Sellers such as Amazon and Walmart, as well as shippers, recognize the growing problem of porch piracy. Many have added programs to help make package delivery safer.
Amazon, for example, has installed Amazon lockers in hundreds of locations throughout the New York metropolitan area, as well as in 900 other cities and towns. These self-service kiosks will hold packages for three days and can also be used for returns. A private company, GoLocker, offers a similar service in select New York locations with per-package and monthly pricing.
Amazon also offers Amazon Key, which offers safe delivery inside your home, garage or car. Despite the name, it's not a key at all, but a keyless smart access device. You can use an app to monitor the delivery person when your package arrives.
The U.S. Postal Service (USPS), as well as all major shippers, will also hold your packages for pick-up. Or, if that isn't convenient, UPS will deliver your package to a neighbor or partner location, such as a Duane Reade drugstore, upon request. Some retailers, such as Walmart and Home Depot, will ship your order to a store you designate for pick-up. The post office and several private firms offer secure P.O. boxes where shipments can be held.
Of course, you also have your packages delivered to your workplace or a neighbor, friend or relative.
In New York, shoppers also have access to several apps that can add security. eNeighbr, an app that recently launched in New York City, delivers your package to a neighbor. The service is free for 30 days, and then costs $2.50 per package. Another app, Doorman, is a service that will receive your packages and then schedule delivery at a time you choose between 6:00 p.m. and midnight. It currently serves New York, Chicago and San Francisco and offers both monthly plans and per-package plans.
If you'd prefer that your shipment be delivered to your home but you want it to be more secure, Amazon sells the Original Porch Pirate Bag and several lockboxes. The Package Guard is a device that sounds an alarm and sends a phone alert if someone tries to steal your package.
Other devices include doorbell cameras, motion sensor lights and even fake surveillance cameras.
What to do if you're a victim
If your package is stolen:
Contact the seller
Contact the delivery service
Check with neighbors to see if they saw anything (or received your package in error)
Call the police
Check your own or a neighbor's camera
Be aware that some shippers may not offer much help. UPS policy, for example, says that if a package a sender has authorized to be left without a signature is delivered successfully, the company isn't responsible if the package is stolen. UPS, FedEx and USPS also limit the dollar amount of claims unless extra insurance is purchased.
Unfortunately, a package left on a porch, doorstep or vestibule is a tempting target. Use some of these tips to make yours less tempting.
If you have any questions about homeowners insurance or your current insurance policy, or if you would like a free insurance review, please call us at 877-576-5200.