Protect Tenants with These Fire Prevention Tips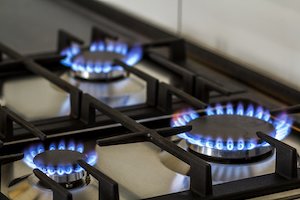 Distinguished Programs recently published a white paper on Common Fire Risks and Prevention Tips Every Community Association Should Know. The short guide offers great advice for landlords and their tenants. After all, fire is the leading catastrophic insurance claim, with most of these disasters occurring during the winter months, often related to holiday cooking and space heater use. For instance, the U.S. Fire Administration reported more than 360,000 residential fires in 2016, with half caused by cooking.
Manage Your Risks
Consider the following questions as you assess fire risks for your residential building:
How often does the building require inspections? Frequency requirements for inspections vary, but the fire department typically performs them at no cost. Schedule an inspection, and follow all recommendations.
How often do residents check smoke detectors? Distinguished recommends monthly testing. Batteries should be replaced twice a year. (It's a good idea to replace the batteries in carbon monoxide detectors at the same time.)
Do residents know how to operate fire extinguishers? Consider posting a safety poster reminding residents of the PASS method:

Pull the pin
Aim toward the base of the fire
Squeeze the lever slowly and evenly
Sweep from side to side

How often do you conduct building fire drills? Annual fire drills are effective at getting people's attention and educating them on fire safety. These events also let tenants know that you care about their well-being.
Have you considered banning fire hazards, like storage of combustibles or portable indoor fireplaces?
Fire Prevention Tips
Even a small blaze can cause significant damage. Fire safety is definitely an area where preventive effort far outweighs the aggravation of recovery. Below are fire prevention tips for the top causes of fires, as reported by the National Fire Protection Association.
Cooking is the leading cause of home fires, resulting in an average of 1666,000 fires per year and claiming 480 lives annually.
Never leave a stove unattended
Turn off burners and oven as soon as you finish cooking
Clean the stove and oven to avoid grease buildup
Keep flammable items (kitchen towels, paper or plastic bags, etc.) at least three feet from the stove
Keep children and pets away from the stove
Heaters are responsible for an average of 54,000 fires each year and an estimated 480 deaths.
Keep flammable items at least three feet away.
Don't use an extension cord with a space heater.
Electrical fires cause an average of 34,000 fires each year, resulting in 20 deaths on average.
Use a power strip.
Don't overload outlets.
Unplug items when not in use.
Inspect cords and repair any frayed or damaged wires.
Repair any outlets that are not working.
Candles are linked to an average of 8,700 fires each year and 82 deaths.
Never burn candles unattended.
Don't light candles in bedrooms and other areas where people may fall asleep.
Keep candles away from flammable items, like curtains and other décor.