Water in Your Building: What Does Water Coverage Provide?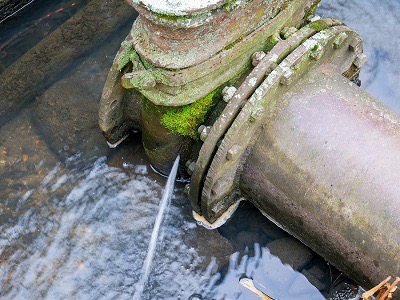 Every day, at least one water main breaks in New York City.
The big breaks can flood subway tunnels and close streets, making life difficult and inconvenient for commuters, residents and business owners.
The smaller breaks might only be a minor annoyance for a few hours.
But with 7,000 miles of aging water mains—the average water main is 66 years old—New York City can't replace them fast enough to eliminate daily breaks.
Last fiscal year, the city repaired 459 water main breaks, 44% of them during the winter months. Over the next two years, the city plans to replace one mile in the 7,000-mile system every week to proactively reduce breaks.
For both landlords and homeowners, the issue isn't the inconvenience. If a water main break floods your property, are you covered? What if a sewer back-up is the cause? Or a flood caused by nature?
Before a flood occurs, learn what your policy does and doesn't cover.
Different Types of Water Coverage
Water can wind up in your building in several different ways:
Internal leaks and pipe ruptures
Floods
Storms
Water main breaks
Sewer back-ups
Melting snow and ice
When it comes to insurance protection, the differences matter.
Leaks and Burst Pipes. This coverage can be included in a general commercial or homeowner's policy. Note that slow leaks, which are considered a maintenance issue, typically aren't covered.
Check out these tips on winterizing pipes to prevent leaks and burst pipes.
Water Back-ups. Damage from water that backs up or overflows from a sewer, drain or sump isn't covered by a standard homeowner's or commercial insurance policy. A rider to add that protection is common, inexpensive and highly recommended. If your policy includes business income coverage, you can extend that coverage to include sewer backup.
Water Main Break. Typically not covered by a general homeowner's or commercial insurance policy, but this coverage can be added.
Service Line Coverage. This type of coverage is separate from above, and usually requires an endorsement. It would cover repairs to the pipes and electrical wires leading to your building, not the damage caused by the flood or overflow. Homeowners can buy inexpensive additional coverage that would, for example, pay if a sewer line became clogged by tree roots.
Floods. Not covered by a standard homeowner's or commercial insurance policy. Flood insurance is mostly provided by the federal government through the National Flood Insurance Program (NFIP). This insurance covers flash flooding, storm surges, mudslides and snowmelt.
These definitions are meant to provide general guidance, but every situation is different. Water-related coverage depends on the cause and source of the water, including what causes the water to enter the property.
To ensure you have the right protection, consult a knowledgeable insurance agent/broker. In many cases, coverage costs very little, especially compared to the potential loss.
If you have any questions about insurance or your current insurance policy, or if you would like a free insurance review, please call us at 877-576-5200.