Home Replacement Cost vs. Market Value: What's the Difference?
Homeowners often wonder why their home's replacement cost differs from its market value and how those two numbers should affect homeowners insurance decisions.
Your home's replacement cost reflects what it would cost to rebuild your home from the ground up. The market value represents how much potential buyers would pay for your home if you sold it. As noted in the Travelers Insurance chart below, your homeowners insurance is based on replacement cost, not market value.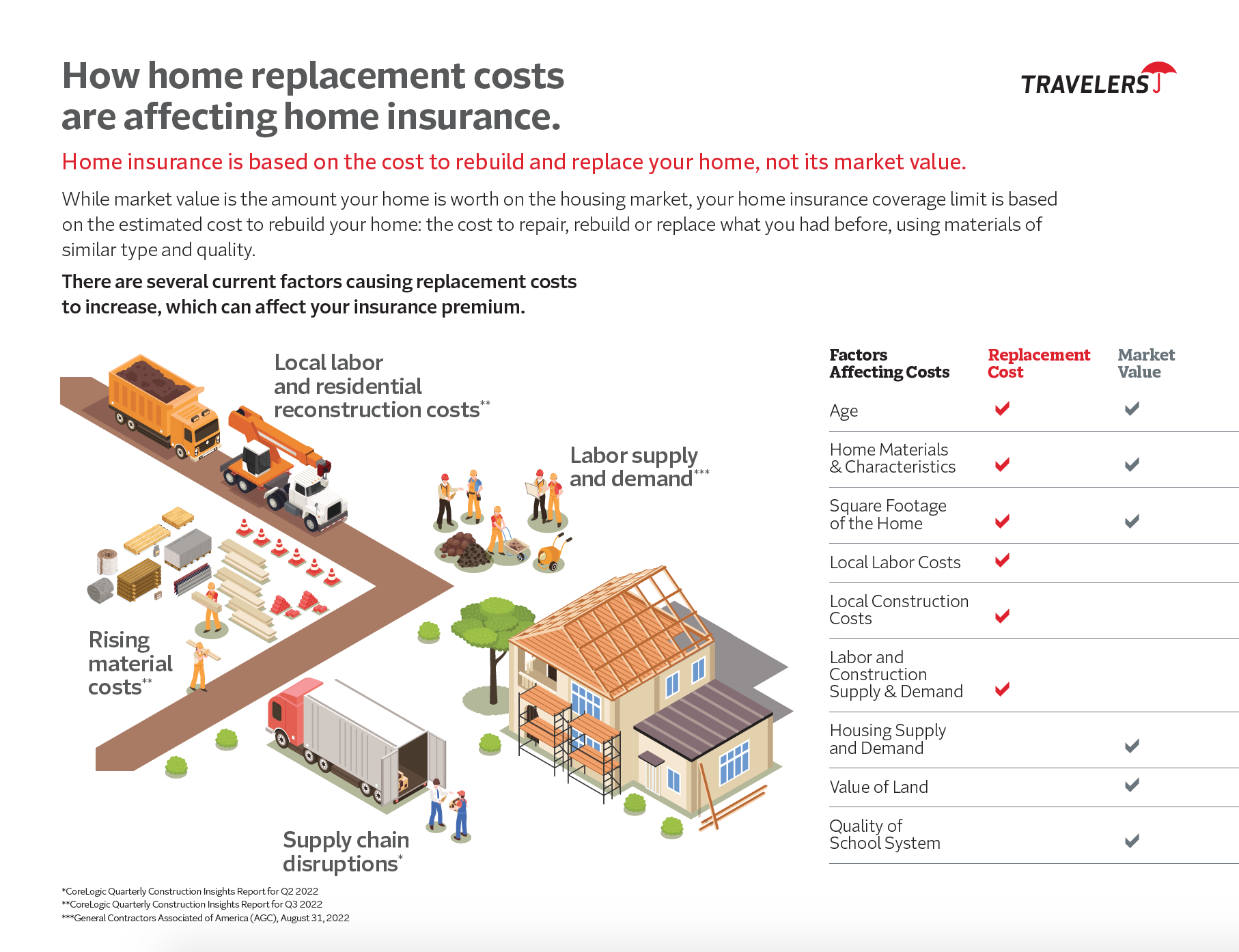 Replacement Cost
A home's replacement cost (sometimes called a "blanket amount") is an estimate of how much it would cost to completely replace the home if it were destroyed by a catastrophic event, such as a fire or natural disaster. On a homeowners insurance policy, this coverage amount is typically broken down into categories: dwelling, personal property (or "contents"), and detached structures (like a shed or garage).
Your home's replacement cost can change from year to year, based on age, square footage, and the cost of labor and construction in your area.
Other factors that can affect your home's replacement cost include the following:
Cabinetry, fixtures, flooring and appliances
Renovations and home additions
Quality of exterior features, like the roof, siding, windows and doors
Valuables and furniture
Some insurance carriers estimate that roughly two out of every three homes would not be fully covered in a disaster. One reason is that homeowners often forget to notify their provider when they renovate or make a large purchase that could affect their insurance.
Given recent increases in construction and other costs, we recommend reviewing your policy with your insurance partner each year to ensure the replacement cost is accurate. As part of the process, the agent will likely recommend creating a home inventory to keep track of valuable personal property.
Market Value
The market value of a home is how much the structure and land are worth in the current housing market. This number takes into account location appeal, land value, housing supply and demand, architectural style, local school system, and crime statistics.
If you've based your homeowners insurance on the market value of your home, you're likely either overinsured and paying too much for coverage—or underinsured and at risk of losing tens of thousands of dollars if disaster strikes. Your insurance partner can help make sure your policy includes the coverage you need.
You don't need to worry about your home's market value if you're not planning on selling anytime soon. Instead, focus on getting an accurate replacement cost.
Should Replacement Cost Be Lower Than Market Value?
The replacement cost of a home is often lower than its market value because market value is influenced by fluctuating factors like the cost of land and supply and demand. However, the market value of a home might be lower than its replacement cost if it was constructed with expensive materials or is located in a very remote area.
Major insurance companies automatically base insurance policy quotes on details like address and square footage to calculate replacement cost. However, if your policy is based on actual cash value (ACV) instead of replacement cost value (RCV), or if it's been a few years since you've spoken to your agent, you should speak with an insurance professional today to make sure you have the proper protection.
If you have any questions about homeowners insurance or would like a free insurance review, please call us at 877-576-5200.