Stay Safe During National Electrical Safety Month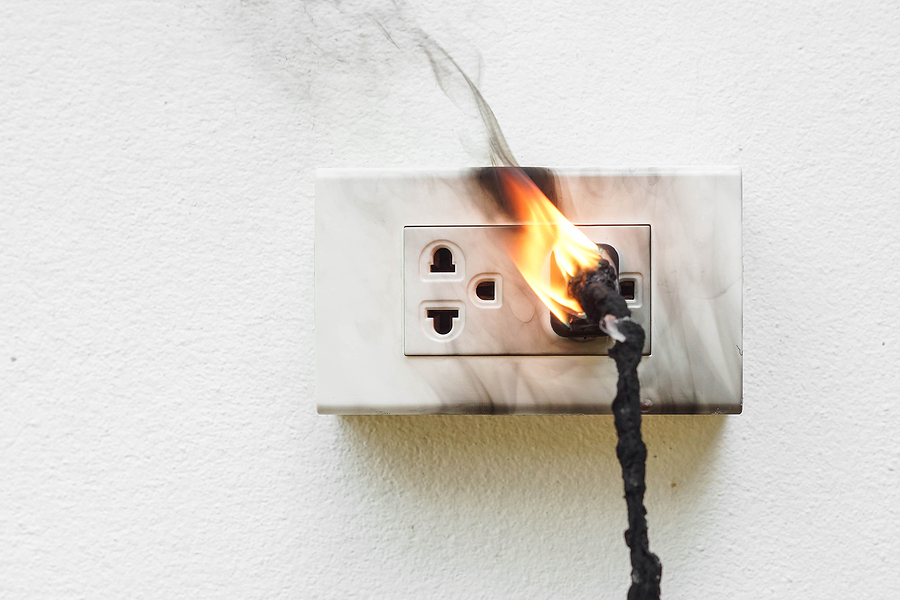 Because May is National Electrical Safety Month, this is a good time to review electrical safety.
Electricity can be dangerous, whether the hazard is a crane contacting an overhead line or a toddler sticking a fork into an electrical socket. The numbers are, well, shocking.
Grim electrical fire and injury statistics
In the workplace alone, there were 166 fatal electrical injuries and 1,900 non-fatal electrical injuries in 2019, according to the Bureau of Labor statistics. In non-residential buildings, the Federal Emergency Management Agency (FEMA) reported that over 8,000 fires were caused by electricity, with total losses of $373,400,000.
For homeowners, the numbers are even more grim: an estimated 51,000 fires each year, nearly 500 deaths, more than 1,400 injuries, and $1.3 billion in property damage. In cold weather, almost 40% of all home fires can be traced to electricity in some way.
Mitigating electrical hazards
Homeowners, landlords, and building owners/managers can take many steps to help avoid fatalities and injuries related to electricity.
Homeowners
Conduct a basic assessment of your home electrical system, electrical cords, extension cords, power plugs, and outlets.
Inspect extension cords to ensure they are in good condition and NOT running under carpets or in doorways.
Call a qualified electrician if you notice problems with circuits tripping, warm outlets, flickering or dimming lights, sparks from an outlet, or a burning or rubber smell from an appliance.
Establish an emergency evacuation plan and practice with your family.
Use light bulbs that match the recommended wattage on the light fixture.
Install tamper resistant receptacles in homes with young children to prevent electrical shocks and burns.
Use extension cords only temporarily, and never with space heaters or air conditioners.
Avoid overloading outlets.
For extra peace of mind, have your home electrical system inspected by a qualified electrician, and ask if you should add Arc Fault Circuit Interrupters (AFCIs). This is particularly important in older homes.
Building owners
Ensure your lockout/tagout and arc flash safety procedures are followed when maintaining and servicing electrical equipment.
Train your employees on electrical safety.
Install and regularly test Arc Fault Circuit Interrupters (AFCIs) if required. (AFCIs are required in most New York buildings.)
Homeowners and Landlords
Install additional outlets to reduce the need for extension cords.
Use a qualified electrician to do all electrical work.
Install smoke detectors on every level of the home, inside each bedroom, and outside each sleeping area, or as required by code, and test them monthly.
Use Ground Fault Circuit Interrupters (GFCIs) as required to reduce shock.
Use power tools listed by a qualified testing laboratory. Inspect them before use, and store indoors.
Trim tree branches away from power lines, or contact your power company to request this service.
Call 811 before you dig to identify the location of underground utilities.